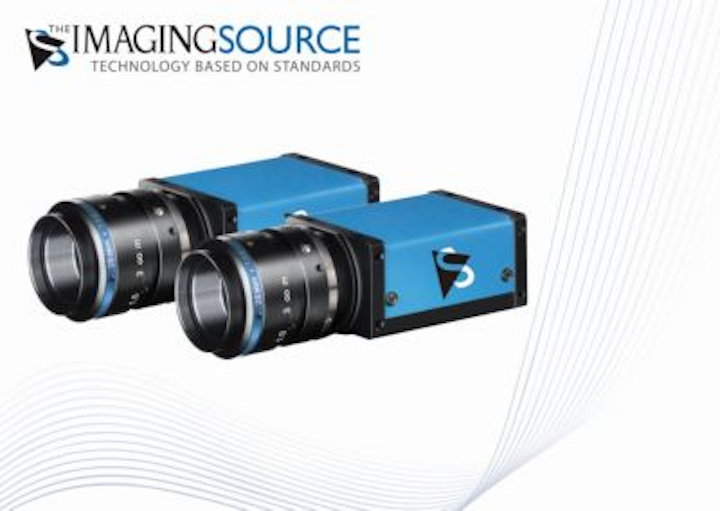 Based on Sony Pregius global shutter CMOS image sensors, the new 9 and 12 MPixel 38 seriesindustrial cameras from The Imaging Source feature the USB 3.1 Gen. 1 interface. Available in both color and monochrome versions, the cameras feature 9 MPixel IMX267LQR and IMX255LQR sensors, which achieve 32 and 42 fps, respectively. The 12 MPixel models feature the 4,096 x 3,000 IMX304LQR and IMX253LQR sensors, which reach 23 fps and 30 fps, respectively. The new USB 3.1 cameras support the USB3 Vision standard and feature a C-Mount lens, free 1D and 2D barcode software development kit, software for on-screen measurement and image acquisition, as well as drivers for LabVIEW, HALCON, MERLIC, VisionPro, DirectX, Twain, and NeuroCheck imaging software.
To Learn More:
Contact: The Imaging Source
Headquarters: Charlotte, NC, USA
Product: 38 series USB 3.1 cameras
Key Features: USB 3.1 Gen. 1 interface, 9 MPixel Pregius sensors (IMX276LQR and IMX255LQR), 12 MPixel Pregius sensors (IMX304LQR and IMX253LQR), USB3 Vision compliant.
What The Imaging Source says:
View more information on both the colorand monochrome models.

View More Products| Locate a vendor or system integrator | Receive e-mail updates
Share your vision-related news by contacting James Carroll, Senior Web Editor, Vision Systems Design

To receive news like this in your inbox, click here.
Join our LinkedIn group | Like us on Facebook | Follow us on Twitter