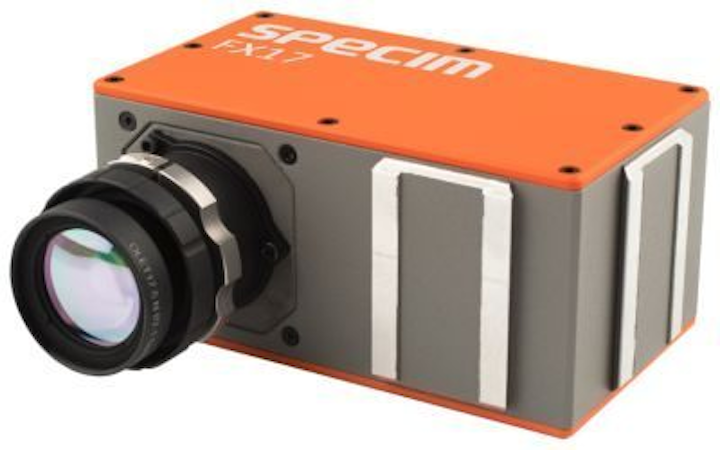 Spectral Imaging Ltd., or Specim, has received a €3.5 million investment from Bocap SME Achievers Fund II Ky, with an aim at doubling its current €10 million revenues by 2020.
Over the past two years, the Oulu, Finland-based Specim has invested about €6 million in developing new generation cameras, and it will reportedly complete the rollout of an innovative new product family by the end of 2017. Its hyperspectral imaging cameras are designed for industrial and professional needs. This includes the FX17 hyperspectral camera, which was showcased at this year's SPIE Photonics West tradeshow.
The 150 x 85 x 75 mm InGaAs-based FX17 camera (pictured) has a spectral range of 900 – 1700 nm and free wavelength selection from 230 bands within the camera coverage. At full frame, the camera can reach 670 fps, and with 4 bands selected, can reach 15,000 fps. The camera is available with a Camera Link or GigE Vision interface and comes with factory-loaded unified wavelength calibration that produces unit-to-until compatible data output.
With this new funding, Specim will invest in further strengthening its position in the global markets, according to a company press release.
"I am proud that as a high-tech company Specim will invest nearly as much in sales and marketing as in R&D. With this move it will take full commercial advantage of its superior knowledge, the entire R&D investment, and the new camera family," explained Specim's Chairman Risto Kalske, who has brought several high-tech companies into rapid growth.
Commenting on the transformation of hyperspectral imaging products from large research-based equipment to compact, mobile instruments; Timo Hyvärinen, one of the founders of Specim, is optimistic regarding the widespread adoption of hyperspectral imaging.
"I have every reason to believe that with miniaturization, hyperspectral imaging will step into people's everyday lives. Usability will undergo a revolution, and soon mobile equipment can easily be brought to the measurement sites for real-time use. Collecting samples, transporting them to the lab for analysis, and experiencing delays in getting the results will become history," he said
View more information on Specim.
Share your vision-related news by contacting James Carroll, Senior Web Editor, Vision Systems Design

To receive news like this in your inbox, click here.
Join our LinkedIn group | Like us on Facebook | Follow us on Twitter