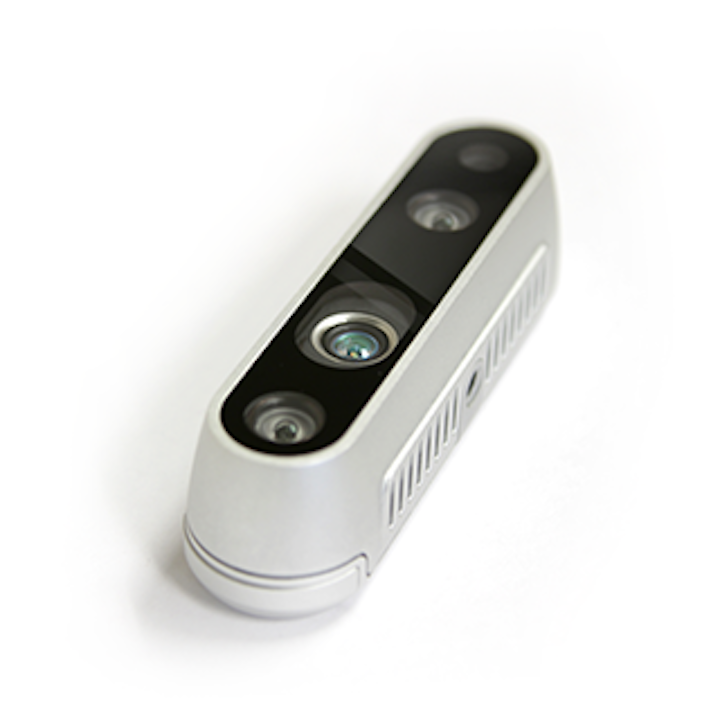 FRAMOShas been appointed as a global approved supplier for the IntelRealSense technology product line, which adds "human-like sensing and intelligence" to devices and machines, and enables applications in fields including virtual and augmented reality and mobile products.
Under the agreement, FRAMOS will offer the entire Intel RealSense technology portfolio, including the RealSense Vision Processor, Depth Modules, and Depth Cameras, all of which are supported with the latest Intel RealSense SDK 2.0. Intel RealSense cameras contain a vision processor and a depth module in a small form factor, and provide stereo depth sensing capabilities, giving devices and machines a "more realistic view of the world," according to FRAMOS. Additionally, Intel RealSense tracking modules are used to comprehend device position and orientation, providing the ability to navigate, map and learn the environment. This product line, according to Dr. Andreas Franz, CEO of FRAMOS, fits in perfectly with FRAMOS' mission to enable customers to make their machines see and think.
"The Intel RealSense technology product line is an excellent suite of components which lets machines make situational decisions," he said. "When integrated, any device will have the ability to naturally and intuitively interact with its environment. We are extremely proud to offer Intel's RealSense technology products and to enable our customers to benefit better and faster from the major shift into intelligent devices and machines."
He added, "When it comes to drones, robots, VR, automotive, surveillance and 3D applications, the Intel RealSense line is an optimal completion to our portfolio of imaging solutions ranging from sensors to systems."
At the FRAMOS Image Sensor Tech Days eventon October 11 in San Francisco, Intel will speak about the possibility of Perceptional Computing based on Intel's RealSense technology
View more information on Intel's RealSense technology here.
Share your vision-related news by contacting James Carroll, Senior Web Editor, Vision Systems Design

To receive news like this in your inbox, click here.
Join our LinkedIn group | Like us on Facebook | Follow us on Twitter