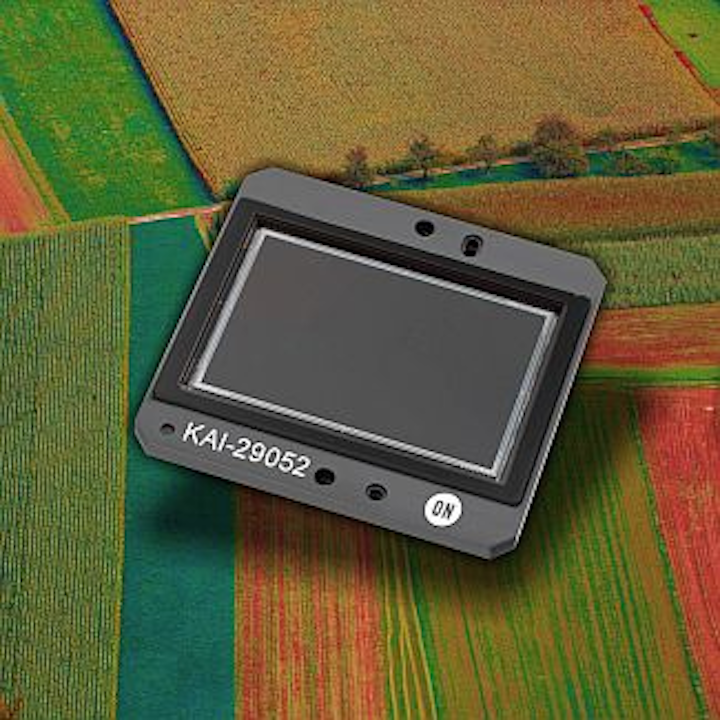 Designed for applications including aerial surveillance, machine vision, and high-end security, the KAI-29052 CCD image sensor from ON Semiconductor provides up to twice the imaging sensitivity of the existing KAI-29050 in the wavelength range of 500 nm to 1050 nm. The KAI-29052 is a 29 MPixel interline CCD in a 35 mm optical format that features a progressive scan readout and is available in monochrome, Bayer color, and sparse color filter pattern configurations. The sensor, which can achieve a frame rate of up to 4 fps, also has a dynamic range of 66 dB and is available in an RoHS-compliant CPGA-72 package. Additionally, the sensor has a 5.5 µm pixel size and is fully pin-compatible not only with the existing KAI-29050 image sensor, but also a full family of 5.5 and 7.4 µm pixel CCD image sensors.
To Learn More:
Contact: ON Semiconductor
Headquarters: Phoenix, AZ, USA
Product: KAI-29052 29 MPixel CCD image sensor
Key Features: 29 MPixel interline CCD image sensor, 5.5 µm pixel size, 4 fps, sensitive in the 500 nm to 1050 nm wavelength range, 66 dB dynamic range.

What ON Semiconductor says:
View more information on the sensor.

View More Products| Locate a vendor or system integrator | Receive e-mail updates
Share new products that you think are particularly interesting or helpful by contacting James Carroll, Senior Web Editor, Vision Systems Design.
Join our LinkedIn group | Like us on Facebook | Follow us on Twitter
Learn more: search the Vision Systems Design Buyer's Guide for companies, new products, press releases, and videos