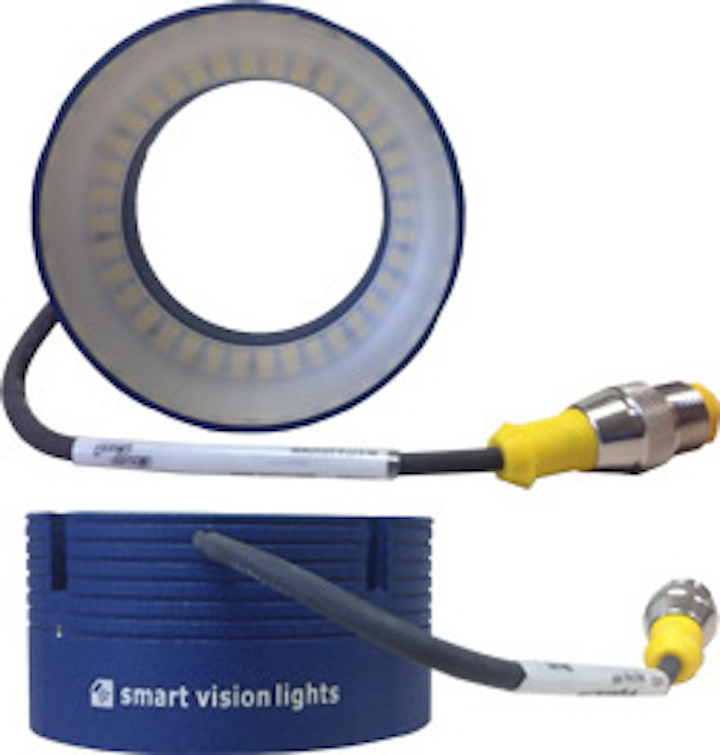 Available in multiple wavelengths to meet various application requirements, the RM75 mini LED ring light is the smallest LED ring light released by Smart Vision Lights to date. The RM75 features Smart Vision Lights' built-in driver, the Multi-Drive, which combines continuous operation and OverDrive strobe (high-pulse operation) mode into one product. MultiDrive also protects the LEDs from degradation and failure caused by excessive heat by regulating the current delivered to the LEDs and limiting the duty cycle of the light. The LED right light also features 72 high-output LEDs, a standard 5-pin M12 connector, 1-10 V DC analog control line, and is available in white, blue, green, and red wavelengths, with additional wavelengths available upon request.
Learn More:

Contact: Smart Vision Lights
Headquarters: Muskegon, MI, USA
Products: RM75 mini LED ring light
Key Features: Available in white, blue, green, and red wavelengths, 72 high-output LEDs, MultiDrive built-in driver, continuous operation or strobe mode.

What Smart Vision Lights says:
View more information on the RM75.

View More Products| Locate a vendor or system integrator | Receive e-mail updates


Share new products that you think are particularly interesting or helpful by contacting James Carroll, Senior Web Editor, Vision Systems Design.
Join our LinkedIn group | Like us on Facebook | Follow us on Twitter
Learn more: search the Vision Systems Design Buyer's Guide for companies, new products, press releases, and videos