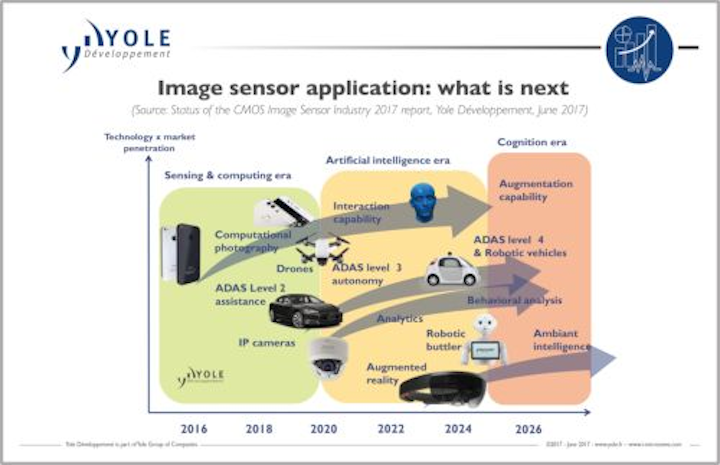 CMOS image sensors represented a $10.3 billion market in 2015, but grew to $11.6 billion in 2016. From 2016 to 2022, according to Yole Développement(Yole), the market will grow at a compound annual growth rate (CAGR) of 10.5%.
Overall growth is being aided by huge market demand in an increasingly technology-driven environment, as well as new applications. Yole notes that the mobile market is key for the CMOS image sensor (CIS) industry, as the introduction of dual and 3D cameras, which are changing the industry's drivers from form factor and image quality to interactivity.
"Ten years down the line from the initial Apple iPhone inception that started the smartphone era", explained Pierre Cambou, Activity Leader, Imaging at Yole. "Since then, CMOS imaging has benefited from huge market demand and a technology-driven environment. Photography and video are the main applications which have been totally transformed by new use cases, new devices and new technologies."
"The mobile market is key for the CIS industry", confirmed Jean-Luc Jaffard, formerly at STMicroelectronics and part of Red Belt Conseil . "Indeed, despite saturation in the number of handsets, the CIS market has been able to maintain a steady growth due to the introduction of dual, iris and 3D cameras. These additional cameras are changing the industry's drivers from form factor and image quality to interactivity."
Further, penetration into higher value-added markets such as automotive, security, and medical has contributed to overall growth, as has new applications including drone photography, biometric identification, and augmented reality.
The report, "Status of the CIS Industry," details CIS applications and related technologies, and offers an analysis of the CIS ecosystem with its latest technological innovations, including an update focused on 3D stacking manufacturing, emerging applications, and the impact of the supply chain moves. Additionally, it reviews the automotive camera adoption curve, and the evolution of the security camera application.
Sony is the largest player in the CIS industry, accounting for 42% of CIS revenue, while Samsung (18%), OmniVision (12%), ON Semiconductor (6%), and Panasonic (3%.) Numerous other vision companies are covered in the report, however, including Basler, CMOSIS, Cognex, Fairchild Imaging, FLIR, New Imaging Technologies, odos imaging, Omron, Point Grey, Teledyne e2v, Teledyne DALSA, and Toshiba Teli, among others.
Cambou will present an overview of the report at Autosens 2017, which takes place September 19-21 in Brussels, Belgium.
View more information on the report.
Share your vision-related news by contacting James Carroll, Senior Web Editor, Vision Systems Design

To receive news like this in your inbox, click here.
Join our LinkedIn group | Like us on Facebook | Follow us on Twitter
Learn more: search the Vision Systems Design Buyer's Guide for companies, new products, press releases, and videos