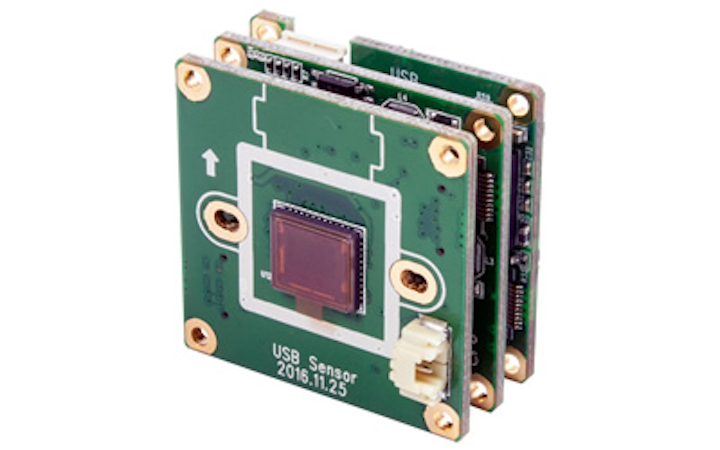 Available in both board-level (model 24C2.1XWUSB3, pictured) or compact industrial metal housing (model 24C7.2XWUSB3), the new USB3 camera from Videology Imaging Solutions feature on-screen display control through any UVC-compatible software, such as AMCap or VLC, and through Videology's custom viewer. The color camera features a 2 MPixel CMOS image sensor from Panasonic that reaches speeds of up to 60 fps, a wide dynamic range of 100 dB, live streaming with still image capture, M-12 board lens, and support for Windows 7, 8, 10, and Linux. Additionally, the camera has numerous controls which include brightness, sharpness, contrast, hue, exposure, auto white balance, gain, digital zoom, and more.
To Learn More:

Contact:Videology Imaging Solutions
Headquarters: Greenville, RI, USA
Product: 24C2.1XWUSB3 and 24C7.2XWUSB3 USB3 camera
Key Features: 1/3" 2 MPixel CMOS image sensor, 60 fps at 1080p, USB 3.0 interface, board-level or metal housing design, 100 dB dynamic range.
What Videology Imaging Solutions says:
View more information on the board-level version and housed version.
View More Products| Locate a vendor or system integrator | Receive e-mail updates


Share new products that you think are particularly interesting or helpful by contacting James Carroll, Senior Web Editor, Vision Systems Design.
Join our LinkedIn group | Like us on Facebook | Follow us on Twitter
Learn more: search the Vision Systems Design Buyer's Guide for companies, new products, press releases, and videos