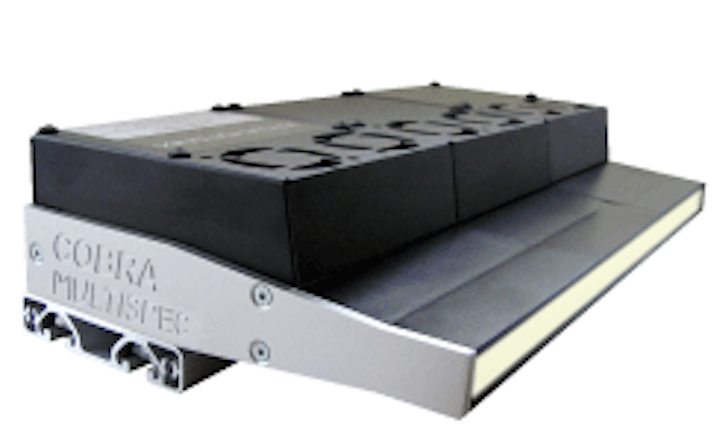 Available with up to 12 wavelengths, the COBRA MultiSpec multispectralLED line light from ProPhotonix is designed for multispectral and hyperspectral imaging applications. The LED lights feature four independent strobe lines, on-board Ethernet control, input power monitoring, and are available in modular pieces in any league of up to 5 meters. The lights are available in wavelengths from 365 – 1500 nm and can be configured with two to twelve wavelengths. With the use of chip-on-board LED technology, the line lights offer extreme brightness and uniformity. Additionally, MultiSpec lights allow for up to four optically independent strobe lines enabling, a total delay and response times of less than one micro second per four-strobe cycle.
To Learn More:
Contact: ProPhotonix
Headquarters: Salem, NH, USA
Product: COBRA MultiSpec LED line light
Key Features: Available with up to 12 wavelengths, field adjustable optics, chip-on-board, modular, wavelengths from 365 – 1500 nm.
What ProPhotonix says:
View more information on the lights.

View More Products| Locate a vendor or system integrator | Receive e-mail updates
Share new products that you think are particularly interesting or helpful by contacting James Carroll, Senior Web Editor, Vision Systems Design.
Join our LinkedIn group | Like us on Facebook | Follow us on Twitter
Learn more: search the Vision Systems Design Buyer's Guide for companies, new products, press releases, and videos