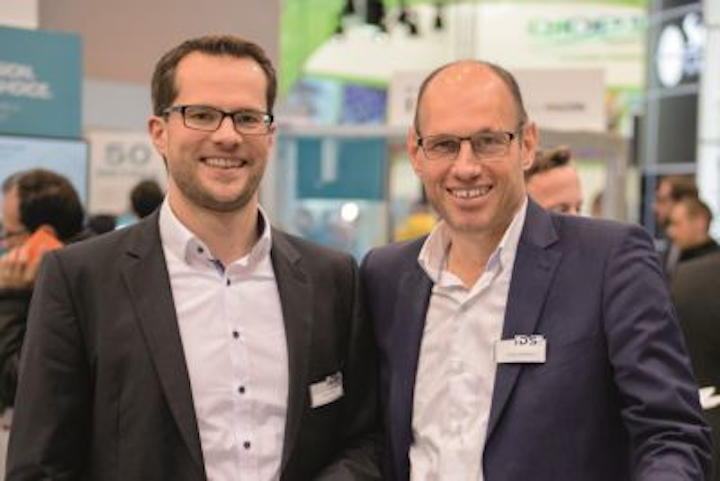 2017 marks the 20th anniversary for machine visioncompanyIDS Imaging Development Systems, which was founded by Jürgen Hartmann and Armin Vogt in 1997 in Germany.
IDS' first product ever released was its FALCON frame grabber, and today, the company sells approximately 150,000 industrial cameras each year. This includes cameras with USB 2.0, USB 3.0, USB 3.1, and GigE connections. Recent new products include the UI-3130LE and the UI-3270LE USB 3.1 cameras. The UI-3130LE camera features the SVGA PYTHON 480 CMOS image sensor from ON Semiconductor, which achieves a frame rate of 138 fps at full resolution, while the UI-3270LE features the 3.2 MPixel IMX265 CMOS image sensor from Sony, which frame rate of 57 fps at full resolution. Both cameras feature version 4.82 of the IDS Software Suite and are available in housed or board-level versions, which measure just 36 x 36 mm.
Last year was a record year for IDS, and the current figures for the first quarter for 2017 exceeded expectations, with a 17% increase in sales compared to the same time period year over year, along with a rise of 25% in incoming orders. IDS credits a number of decisions, such as the changing from analog frame grabber to digital industrial cameras, as well as the use of the USB interface and an early switch to CMOS sensors among the reasons for its success.
"Above all, we owe this success to our partners and customers. Their suggestions and wishes are what motivate us to develop new products", explains Jürgen Hartmann, who considers this to be an important factor in the company's growth. "This is especially true in this anniversary year, more than ever before, because the digitalization of production and Industry 4.0 are creating more and more new opportunities. We are working flat out on specific ideas for the next step towards smart machine vision!"
Pictured: Daniel Seiler (Managing Director) and Jürgen Hartmann (Founder, Owner, and Managing Director of IDS)
View more information onIDS.
Share your vision-related news by contacting James Carroll, Senior Web Editor, Vision Systems Design

To receive news like this in your inbox, click here.
Join our LinkedIn group | Like us on Facebook | Follow us on Twitter
Learn more: search the Vision Systems Design Buyer's Guide for companies, new products, press releases, and videos