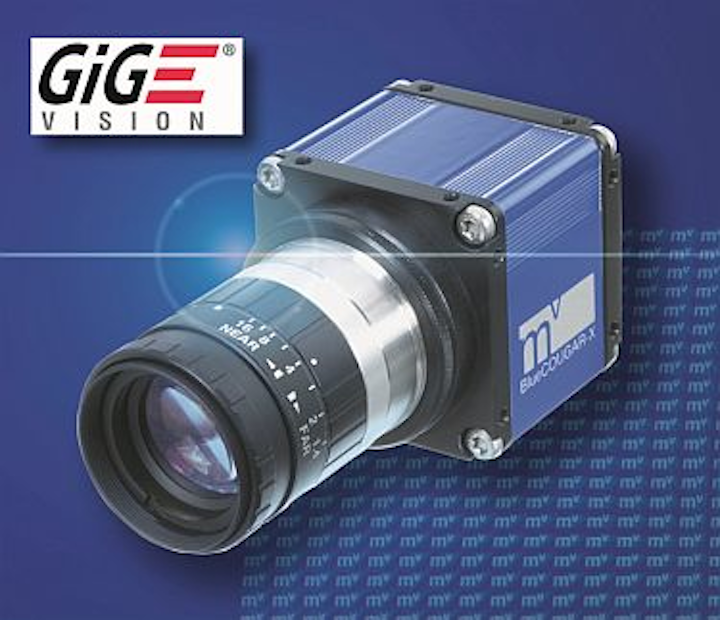 Designed specifically for the shortwave UV range, the mvBlueCOUGAR-X104bUVGigE camera from Matrix Vision features an image sensor with the microlenses removed in place of a sensor cover glass with special UV-permeable quartz glass. The sensor used in the camera is the CMOSIS CMV4000 4.2 Pixel CMOS image sensor, which achieves a frame rate of 18.5 fps. The GigE camera also offers a variety of smart features, including flatfield correction, color correction, and white balance settings, as well as a 64 MB image memory, drivers for Windows and Linux, and GigE Vision and GenICam compliance. Additionally, the camera supports third-party image processing libraries that are GigE Vision compliant.
To Learn More:

Contact:MATRIX VISION
Headquarters: Oppenweiler, Germany
Product:  mvBlueCOUGAR-X104bUV GigE camera
Key Features:. Special CMV4000 CMOS image sensor with UV-permeable quartz glass for sensitivity in the shortwave UV range, 18.5 fps, GenICam and GigE Vision compliant.

What MATRIX VISION says:
View more information on the camera.

View More Products| Locate a vendor or system integrator | Receive e-mail updates

Share new products that you think are particularly interesting or helpful by contactingJames Carroll, Senior Web Editor, Vision Systems Design.
Join ourLinkedIn group | Like us on Facebook | Follow us on Twitter
Learn more: search the Vision Systems Design Buyer's Guide for companies, new products, press releases, and videos