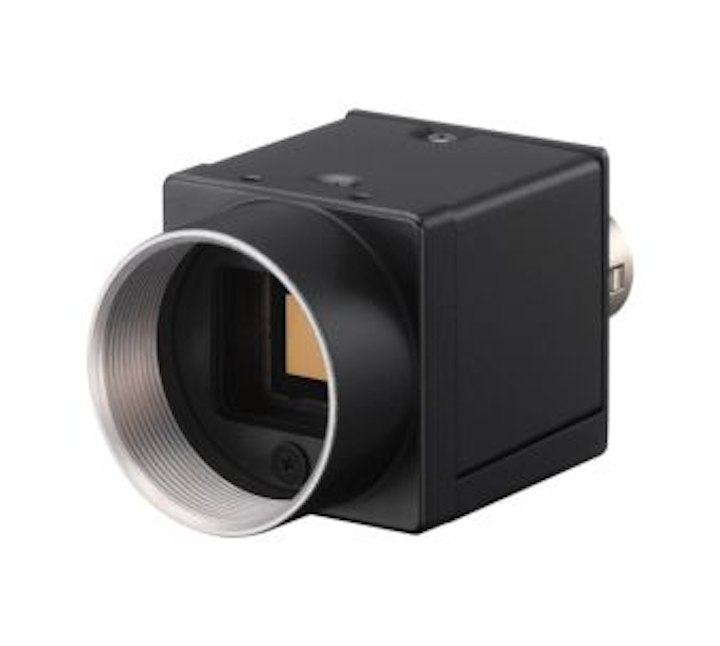 Sony Europe's Image Sensing Solutionshas announced a new series of SXGA camera moduleswhich are positioned to enable users to move from CCD to global shutter CMOS image sensor. The first camera available in the series is the XCG-CG160, which is available in color and monochrome, and is based on the 1/3" IMX273 global shutter CMOS image sensor—a sensor Sony notes as an ideal replacement for cameras using the popular ICX445 CCD sensor.
The IMX273 is a 1.6 MPixel sensor that can achieve a frame rate of 75 fps via the camera's GigE interface. The C-Mount camera's features include defect-pixel correction, shading correction with both peak and average detection and area gain to automatically adjust for the target object. The module also supports 2x2 multi-region of interest, flip, and binning. Additionally, Sony's Firmware v1.1 is certified by Cognex VisionPro and is GigE Version 2.0 compliant; allowing both hard and software triggering, with the module able to act as a both an IEEE1588 (PTP) master and slave.
Black and white models are available immediately and color models will be available in December, while USB 3.0 models—Sony's first—are scheduled to enter mass production by Q1 2018.
To Learn More

Contact: Sony Image Sensing Solutions
Headquarters: The Heights, Brooklands, Surrey, UK
Product: XCG-CG160 camera
Key Features: 1.6 MPixel global shutter IMX273 CMOS image sensor, 75 fps, GigE interface (USB 3.0 coming soon).

What Sony Image Sensing Solutions says:
View more information on the camera.

View More Products| Locate a vendor or system integrator | Receive e-mail updates
Share new products that you think are particularly interesting or helpful by contacting James Carroll, Senior Web Editor, Vision Systems Design.
Share your vision-related news by contacting James Carroll, Senior Web Editor, Vision Systems Design

To receive news like this in your inbox, click here.
Join our LinkedIn group | Like us on Facebook | Follow us on Twitter