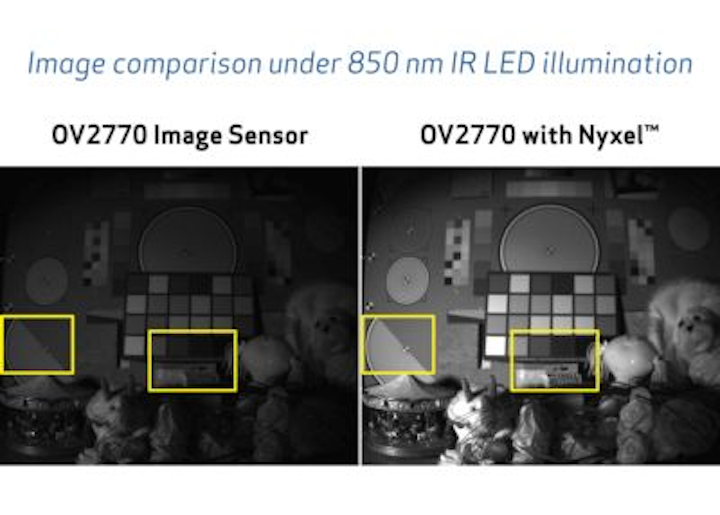 OmniVision Technologies, Inc. has announced the release of Nyxel, a nearinfrared (NIR) technology that leverages novel silicon semiconductor architectures and processes that address the inherent challenges in NIR detection in image sensors.
Results from Nyxel show an increase in quantum efficiency of up to 3x at 850 nm and 5x at 940 nm, when compared to the company's legacy NIR-capable sensors. This, according to OmniVision, enables the image sensor to see better and farther under the same amount of light, extending the image detection range. As a result, Nyxel technology-based camera systems require fewer LED lights, reducing overall power consumption in the applications the technology targets, which include surveillance, machine vision, and automotive.
"Conventional approaches to NIR rely solely on thick silicon to improve NIR image-sensor sensitivity. However, this results in crosstalk and reduces the modulation transfer function (MTF). Attempts to overcome this by introducing deep trench isolation (DTI) often lead to defects that corrupt the dark area of the image," explained Lindsay Grant, vice president of process engineering at OmniVision.
Grant continued: "We have worked to overcome these challenges in an exclusive engagement with our foundry partner, leveraging technologies in its 300mm wafer fab. Initial results are very promising, and have generated a great deal of interest with our OEM customers."
View more information on Nyxel technology.
Share your vision-related news by contacting James Carroll, Senior Web Editor, Vision Systems Design

To receive news like this in your inbox, click here.
Join our LinkedIn group | Like us on Facebook | Follow us on Twitter