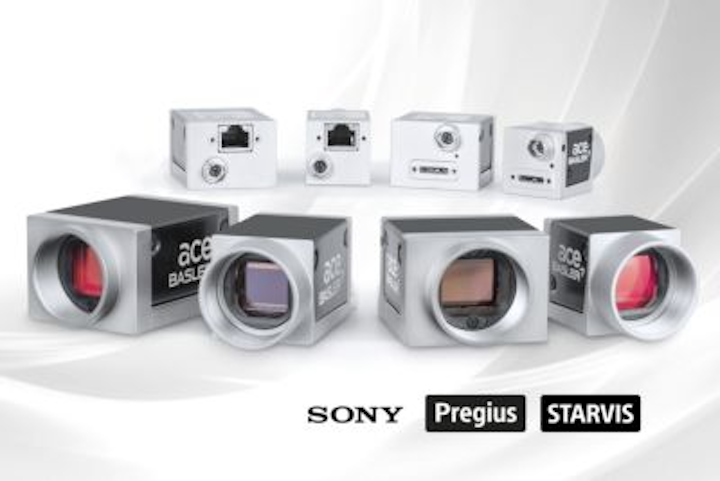 Expanding on its line of ace industrial cameras, Basler has introduced 20 new models (10 color, 10 monochrome) featuring Sony Pregius and STARVIS CMOS image sensors. With more than 120 models now in the ace line, Basler has grouped the series into three product lines: ace classic, ace U and ace L. Making up the ace L line are 12 new cameras equipped with the IMX253, IMX255, IMX267, and IMX304 Sony Pregius global shutter CMOS image sensors. These cameras offer sensor sizes of 9 and 12 MPixel with 3.45 µm pixel size, with frame rates reaching up to 40 fps.
Joining the ace U product line are eight new models featuring the IMX178 (6 MPixel) and IMX226 (12 MPixel) STARVIS rolling shutter sensors, which offer high sensitivity with a small pixel size of 2.4 µm (IMX178) or 1.85 µm (IMX226). These cameras achieve frame rates of up to 59 fps.
All 20 new ace models are available in GigE or USB 3.0, and conform to the GigE Vision 2.0 USB3 Vision standards. The ten color models include the PGI feature set, which is the combination of 5x5 debayering, color-anti-aliasing, denoising, and improved sharpness. All models come with Basler's pylon Camera Software Suite.
To Learn More:

Contact:Basler
Headquarters: Ahrensburg, Germany
Product: ace industrial cameras
Key Features: GigE or USB 3.0 interface, CMOS image sensors from Sony (Pregius and STARVIS models), pylon software.

What Basler says:
View more information on the cameras.
View More Products| Locate a vendor or system integrator | Receive e-mail updates
Share new products that you think are particularly interesting or helpful by contacting James Carroll, Senior Web Editor, Vision Systems Design.
Share your vision-related news by contacting James Carroll, Senior Web Editor, Vision Systems Design

To receive news like this in your inbox, click here.
Join our LinkedIn group | Like us on Facebook | Follow us on Twitter
Learn more: search the Vision Systems Design Buyer's Guide for companies, new products, press releases, and videos