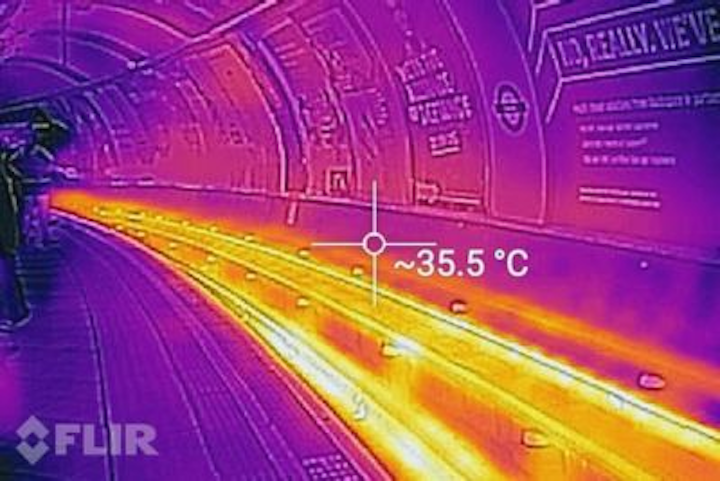 A thermal imaging camerahas captured images exceeding 107°F (42°C) in the London tube during the hottest June day since 1976.
Temperatures recorded on the tube, which included 95°F (35°C) on at the Bank station and the aforementioned 107°F (42°C) on the Central line, both the temperature of 86°F (30°C), which is the legal temperature limit at which cattle can legally be transported, according to the EU. These temperatures came during a week-long heatwave that left commuters undoubtedly sweating on the tube.
Katie Panayi, 29, told the Evening Standard, "I can't walk anywhere it's so hot. I'm about to go on a date and my make-up is literally melting off my face. I can tell you this heat is not healthy. It feels like I'm about to pass out and die. "Last night I saw two elderly people completely collapse on the way home on the train because the air-con was broken. The poor lady was just lying on the floor but no one could move to help her."
Thermal images captured during the heatwave identified the temperatures throughout various parts of the train. The images were captured with a Cat S60 phone, which is a ruggedized smartphone that integrates FLIR's Lepton infrared camera. The Lepton features an 80 x 60 uncooled VOx microbolometer array with a pixel size of 17 µm. The 8.5 x 8.5 x 5.9 mm fixed focus camera features a spectral range of 8 µm to 14 µm, 50° horizon field of view (FOV), and thermal sensitivity of <50 mK. Lepton utilizes wafer-level detector packaging, wafer-level micro-optics, and a custom integrated circuit that supports all camera functions on a single integrated low power chip.
Lepton can visualize heat invisible to the naked eye—as evidenced in the photos—and allows users to measure surface temperature from a distance, detect heat loss around doors and windows, spot moisture and missing insulation. The smartphone is waterproof to depths of up to 5 meters for one hour and also has a 13 MPixel underwater camera and a 5 MPixel front-facing camera. The camera also features FLIR's MSX multispectral dynamic imaging) image processing enhancement, which enhances thermal images with visible light detail for extra perspective.
While camera's such as the Lepton can help to identify potentially unsafe temperatures in places such as the London tube, they can't do much when it comes to that broken air conditioning. For the sake of those who rely on the tube, let's hope that has been since fixed.
View more information on the Cat S60.
View more information on theLepton.
View theEvening Standard article.
Share your vision-related news by contacting James Carroll, Senior Web Editor, Vision Systems Design
To receive news like this in your inbox, click here.
Join our LinkedIn group | Like us on Facebook | Follow us on Twitter