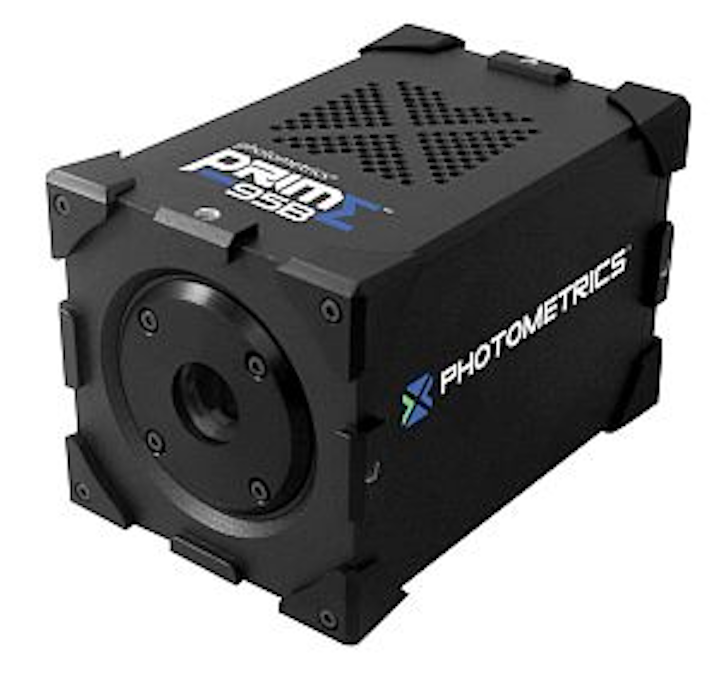 Featuring backside-illuminated sensor technology providing 95% quantum efficiency, the Prime 95B from 2017 Gold Innovators Awards honoree Photometrics will be on display at LASER World of Photonics from June 26-29 in Munich, Germany. The camera features a GSENSE400BSI-TVISB scientific CMOS (sCMOS) sensor from Gpixel Inc., which is a 1.44 MPixel sensor with a 11 µm square pixel size that can achieve a frame rate of 41 fps in 16-bit and 82 fps in 12-bit. The Prime 95B, per Photometrics, is optimized for low-light microscopy and life sciences imaging applications because of its ability to collect nearly all available light, and maximize the signal-to-noise ratio of the experiment while minimizing cellular photo damage. Additionally, the camera features forced air or liquid cooling options, as well as a PCIe and USB 3.0 interfaces, and also has an FPGA-based "intelligent" embedded signal processing engine, including PrimeEnhance, which reduces the negative effects of photon shot-noise and provides a 3-5X increase in signal to noise ratio, as well as PrimeLocate, which actively detects and transfer only those regions containing localized data, lowering data storage requirements on the host PC.
LASER World of Photonics 2017 booth number: Hall A2, Booth 110
To Learn More:
Contact:Photometrics
Headquarters: Tucson, Arizona
Product: Prime 95B scientific imaging camera
Key Features: 1.44MPixel sCMOS image sensor, 11 µm square pixel size, 95% quantum efficiency, USB 3.0 and PCI Express interfaces.

What Photometricssays:
View more information on the Prime 95B.

View More Products| Locate a vendor or system integrator | Receive e-mail updates


Share new products that you think are particularly interesting or helpful by contacting James Carroll, Senior Web Editor, Vision Systems Design.
Join our LinkedIn group | Like us on Facebook | Follow us on Twitter
Learn more: search the Vision Systems Design Buyer's Guide for companies, new products, press releases, and videos