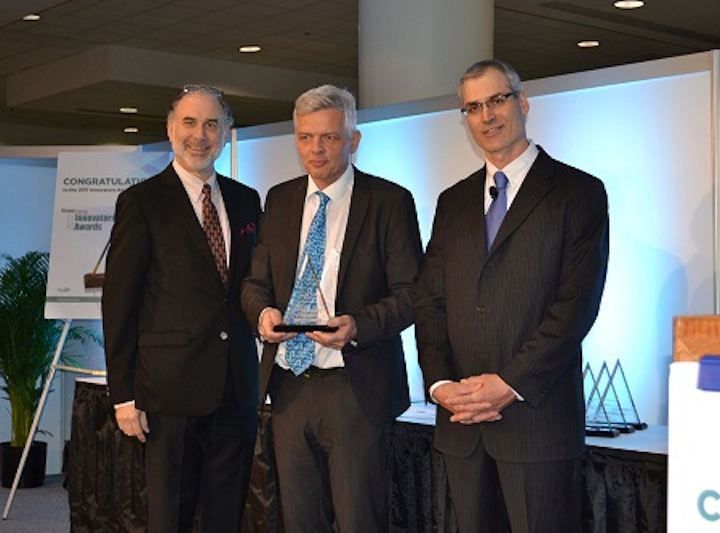 At this year's Vision Systems Design Innovators Awards, Tichawa Vision won Gold for their new VDCIS Industrial Scanner. The VDCIS, a high-precision CIS (Contact Image Sensor) intended for industrial quality control, convinced the jury with its outstanding qualities and its high level of innovative energy. Dr. Nikolaus Tichawa, CEO of Tichawa Vision received the award personally at the Automate 2017, the largest trade show for automation technology in North America.
VDCIS impresses with outstanding qualities
Tichawa Vision received the prestigious award for its newest product, the VDCIS Industrial Scanner. The CIS system is designed for the surface inspection of food products and blister packaging as well as products made of glass, wood, metal, plastics and ceramics. Its special feature, a CIS sensor, has increased the depth of field to 16 Millimeters from the previous 0,5 to 15 Millimeters. "It enables the CIS sensor a more in-depth view," explains Dr. Nikolaus Tichawa. "It can determine, for example, whether any pills are missing in the packaging, or inspect the prints on cans, bottles and other cylindrical objects."
Due to its very compact design, the VDCIS can easily be installed into production machinery at minimal expense. The sensor can be equipped with an optional scanning width of 300 to 1.800 Millimeters. The VDCIS comes with an adjustable resolution (500 to 1.000 dpi) as well as the lighting combinations RGB and monochrome. "With its outstanding qualities the VDCIS product range can tap into completely new areas of application like the inspection of food products, loose goods or Direct-to-Shape-Prints", explains Dr. Nikolaus Tichawa-
"The whole Tichawa Team is pleased to receive the Gold award. This distinction has strengthened our commitment to continually develop optimal solutions for the automated quality control of industrial parts." says Dr. Nikolaus Tichawa. "This was the first time we applied for the award and we won right away.
Award for market leading solutions
The jury is comprised of well-versed specialists from various computer retailers and companies. The prize is awarded in the categories Platin, Gold, Silver and Bronze. The Innovators Awards are judged based on following criteria: originality, innovation, impact on designers, market demand as well as the utility of the new technology.
Alan Bergstein, publisher of Vision Systems Design stated that "This prestigious program allows Vision Systems Design to celebrate and recognize the most innovative products and services in the vision and image processing industry. Our 2017 honorees are an outstanding example of companies who are having a great impact on the industry."
The 2017 Visions Systems Design Innovators Awards honorees are featured in the June issue of Vision Systems Design magazine as well as on http://www.vision-systems.com.
Proven CIS technology
Tichawa Vision GmbH develops and manufactures Contact Image Sensors (CIS) for inspection of flat materials as an alternative to conventional line cameras. The CIS includes in one housing a reading guide line, an optical system, and a light source for high-precision applications, e.g. the printing business. On the know-how of those cameras Tichawa has developed a wide range of cameras for applications in industry. Tichawa Vision configures ready-made and well proven function blocks in a short development time and thus build cameras at extremely favorable costs. This principle offers high reliability in design as concerns power consumption, functionality and size.
About Vision Systems Design
Published since 1996, Vision Systems Design is a global resource for engineers, engineering managers and systems integrators that provides comprehensive global coverage of vision systems technologies, applications, and markets. Vision Systems Design's magazine, website (http://www.vision-systems.com), email newsletters and webcasts report on and analyze the latest technology and business developments and trends in the worldwide machine vision and image processing industry.
About The Vision Systems Design 2017 Innovators Awards program
The Vision Systems Design 2017 Innovators Awards program reviewed and recognized the most innovative products and services in the vision and image processing industry. Honorees were announced at Automate 2017 held in Chicago, IL, USA. Criteria used in the Innovators Awards ranking included: originality, innovation; impact on designers, systems integrators and end-users; fulfilling a need in the market that hasn't been addressed, leveraging a novel technology, and increasing productivity.
About Tichawa Vision
Since the foundation in 1991, Tichawa Vision GmbH has specialised in the development, production and distribution of camera technologies for industrial image processing for the purpose of optical surface inspection and product control. Tichawa is the worldwide leader in the field of Contact Image Sensors (CIS), which –consisting of a reading line, an integrated lens and an optimized light source –generate reliable analytical results with an aspect ration of 1:1 for applications as well as glass processing, silk screen printing, wafer inspection, sorting of postal items or automation technology.