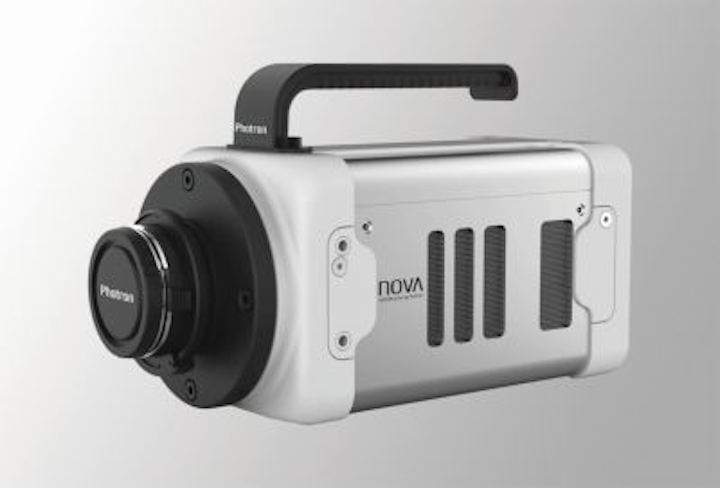 Available in the S12 (12,800 fps), S9 (9,000 fps), and S6 (6,400 fps) models, NOVA high-speed cameras from Photron measures 4.72" (H) x 4.72" (W) x 9.05" (D) and weighs 3.2 kg (7.05 lbs). All NOVA models feature a 1024 x 1024 CMOS image sensor with a 20 µm pixel size as well as global electronic shutter, ISO 40,000 monochrome, ISO 100,000 mono T, ISO 16,000 color, and up to 64 GB internal memory.
Additionally, the cameras offer a GigE interface, Photron FASTCAM Viewer software, and the Photron Device Control software development kit, which allows integration of the camera with user-specific software, and libraries for controlling the camera with a MATLAB or LabView environment. NOVA cameras are compatible with a number of lens formats to allow the use of a Nikon G-Type, C-Mount, and Canon EF lenses.

To Learn More:

Contact:Photron Inc.
Headquarters: San Diego, CA, USA
Product: NOVA high-speed cameras
Key Features: 1 MPixel CMOS image sensor with a 20 µm pixel size, three models of varying frame rates (up to 12,800 fps at full resolution), compact body and lightweight design, software and SDK.
What Photron says:
View more information on the camera.

View More Products| Locate a vendor or system integrator | Receive e-mail updates
Share your vision-related news by contacting James Carroll, Senior Web Editor, Vision Systems Design

To receive news like this in your inbox, click here.
Join our LinkedIn group | Like us on Facebook | Follow us on Twitter