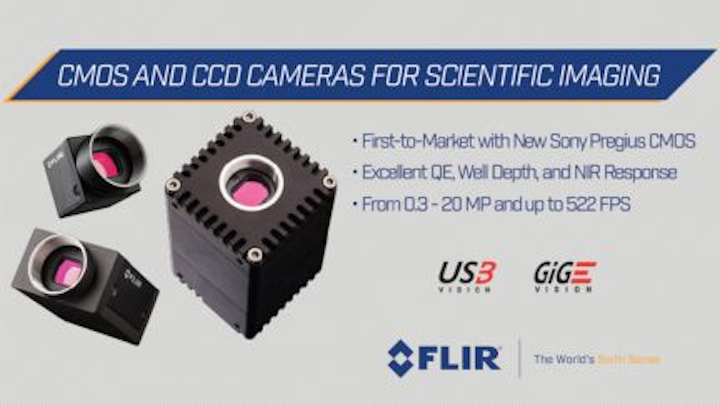 At the FLIRbooth at SPIE Photonics West 2018, the company will offer several live demonstrations with some of its latest area scan and SWIR cameras. Among the cameras on display will be the Oryx 10GigE family, which support transfer speeds up to 10Gbit/s allowing the capture of 4K resolution, 12-bit images at over 60 fps. The first two Oryx models feature the 5 MPixel Sony IMX250 and the 12.3 MPixel IMX253 CMOS image sensors.
Another camera that will be highlighted at the show is the new 1.6 MPixel Blackfly S camera featuring the Sony Pregius IMX273 sensor. Blackfly S cameras come with the company's new Spinnaker software development kit, which is a GenICam 3 API library built for machine vision applications. Additionally, the company will showcase the A6260sc SWIR cameras, which feature a 640 x 512-pixel InGaAs detector optimized for the 0.9 to 1.7 µm sensing waveband.
SPIE Photonics West 2018 booth number: 2134 and 2135
To Learn More:

Contact:FLIR (Formerly Point Grey)
Headquarters: Richmond, BC, Canada
Products: Oryx 10GigE cameras, Blackfly S cameras, A6260sc SWIR cameras.

What FLIR says:
View more information on Oryx cameras.
View more information on Blackfly S cameras.
View more information on the SWIR cameras.

View More Products| Locate a vendor or system integrator | Receive e-mail updates
Share new products that you think are particularly interesting or helpful by contacting James Carroll, Senior Web Editor, Vision Systems Design.
Share your vision-related news by contacting James Carroll, Senior Web Editor, Vision Systems Design

To receive news like this in your inbox, click here.
Join our LinkedIn group | Like us on Facebook | Follow us on Twitter