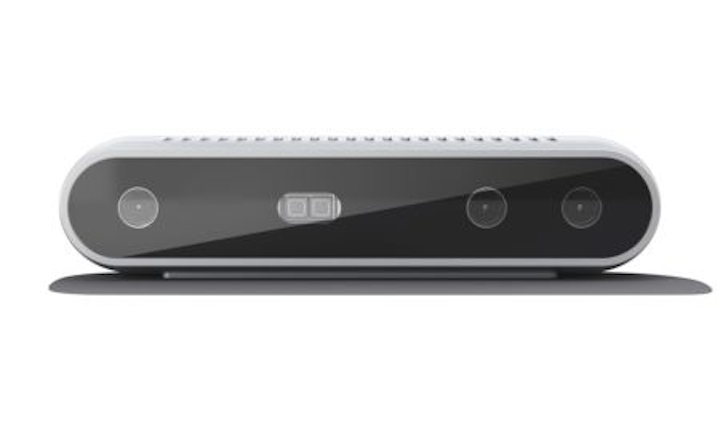 Expanding on its line of RealSense D400 3D cameras, Intelhas announced the launch of the D415 and D435 depth cameras, which come ready-to-use in both indoorand outdoor applications, and in any lighting environment.
Supported by the Intel RealSense Software Development Kit (SDK 2.0), which is available for the first time as a cross-platform, open-source SDK; Intel's 3D cameras include different depth technology features. First, the D415 3D camera features a rolling shutter sensor with 1.4 µm pixel size and a standard field of view (63.4° x 40.4° +/- 3° depth FOV, and 69.4° x 42.5 +/- 3° RGB FOV), for a general-purpose solution to add depth and stream data to existing systems.
Intel's D435 depth camera features a global shutter sensor with 3.3 µm pixel size that enables capture with fast motion or use cases such as virtual reality. This camera has a depth field of view of 85.2° x 58° (+/- 3°) and an RGB sensor FOV of 69.4° x 42.5° (+/- 3°). Both cameras feature USB 3.0 Type C interface, active infrared stereo depth technology, depth stream output resolution of up to 1280 x 720 at up to 90 fps for depth stream output frame rate, as well as a 1920 x 1080 RGB sensor resolution and a frame rate of 30 fps.
"Many of today's machines and devices use 2D image recognition-based computer vision, but with Intel RealSense's best-in-class depth technology, we are redefining future technologies to 'see'like a human, so devices and machines can truly enrich people's lives," said Sagi Ben Moshe, vice president and general manager of the RealSense Group at Intel. "With its compact, ready-to-use form, the Intel RealSense D400 Depth Camera series not only makes it easy for developers to build 3D depth sensing into any design, but they are also ready to be embedded into high-volume products."
Targeting applications including virtual reality and augmented reality, robotics, and drones, the RealSense 3D cameras provide developers, OEMs/ODMs, systems integrator, and other end users with an inexpensive (under $200) method to visualize 3D point clouds and otherwise add 3D depth sensing into new or existing applications.
View more information on RealSense cameras.
View a fact sheet on the new camera models.
Share your vision-related news by contacting James Carroll, Senior Web Editor, Vision Systems Design

To receive news like this in your inbox, click here.
Join our LinkedIn group | Like us on Facebook | Follow us on Twitter