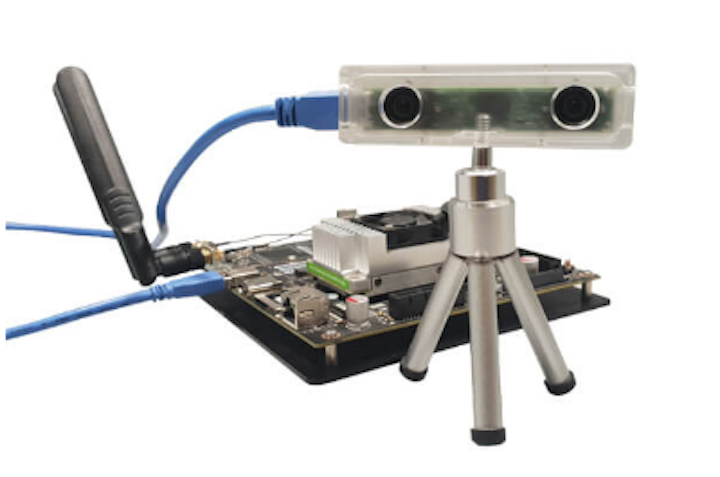 Embedded camera solution company e-con Systems has announced the TaraXL USB3 stereo vision camera, based on the MT9V024 WVGA global shutter monochrome CMOS image sensor from OnSemi.
The new camera is bundled with e-con Systems' CUDA accelerated stereo camera SDK for NVIDIA Tegra processors, that is fully tested on the NVIDIA TX2 Linux platform. The SDK provides a 3D depth map of 752 x 480 pixels at 50 fps and a high accuracy mode that supports depth mapping at 25 fps. The TaraXL can stream uncompressed stereo in WVGA at 60 fps, and in VGA and QVGA formats also at 60 fps.
The TaraXL's dimensions are 100 x 30 x 35mm. A pair of MT9V024 CMOS sensors separated by an inter-ocular distance of 60mm and a pair of pre-calibrated lenses are mounted on an S-Mount (M12) holder. e-con Systems is promoting the TaraXL camera as ideal for autonomous driving systems and retail store stock level monitoring among other uses.

To Learn More:
Contact: e-con Systems, Inc.
Headquarters: St. Louis, Missouri, USA
Product: TaraXLstereo vision camera
Key Features: MT9V024 image sensor, CUDA SDK, stereo streaming in multiple formats at 60 fps, 100 x 30 x35mm footprint
What e-con Systems says:
View more information on the TaraXL stereo vision camera.
View More Products| Locate a vendor or system integrator | Receive e-mail updates
Share your vision-related news by contacting Dennis Scimeca, Associate Editor, Vision Systems Design