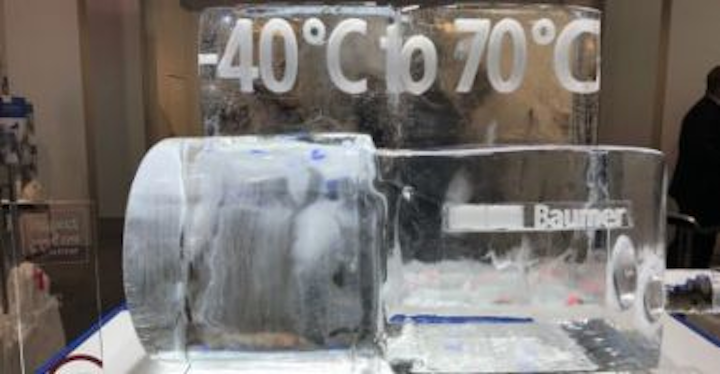 The following is a summary of my meetings during day three of the largest trade show in machine vision and imaging, VISION 2018.
View my summary of day two here.

When it came time for my meeting with Teledyne DALSA, I walked over to their large blue booth in the middle of the VISION show floor. When I stepped into the space and looked up, I realized it was actually "Teledyne Imaging" that I was visiting. This became very apparent, as I looked around and saw displays of the latest machine visioncamerasfrom Teledyne DALSA, and the latest image sensors from Teledyne e2v.
When I pointed this out to Geralyn Miller, Senior Manager, Global Media Relations, she responded with enthusiasm.
"We are really excited to have both Teledyne e2v and Teledyne DALSA together in one booth. Each company brings unique capabilities and we see great opportunity for synergy between the two, bringing more value to our customers, and this is a big deal," she said.
Of course, there were a whole range of products on display at the booth, including the company's new Linea ML line scan cameras, which are based on 8k and 16k image sensors and are available in color and monochrome and offer monochrome/HDR, color, multispectral, and polarization imaging capabilities. Also on display was the company's new 5GigE area scan machine vision camera, which built around CMOS image sensors from Sony. These monochrome and color 5GBASE-T cameras offer sensor sizes from 3.2 MPixels to 12 MPixels and Teledyne DALSA's TurboDrive technology.
Additionally, the latest image sensors from Teledyne e2v were being showcased, which included models in the Lince, Snappy, and Emerald image sensor lines.
Looking forward, Miller noted that—like many others—Teledyne Imaging has a keen eye on artificial intelligence.
"We are looking at opportunities and performing research in the field of AI," she said. "At the booth, we have a demonstration that features Sherlock 8 software with an AI plug-in. This is something we are going to look more into in the coming year."
Machine vision cameras evolved
Visiting VISION for just the second time is Hikvision, a company previously known best for its security cameras. At the booth, the company was showing a full range of machine vision cameras, including new high-resolution, high-speed models.
Charles Huang, Product Manager, explained that the interest in the company's cameras has picked up since the previous VISION show, and that the company is finding success in its move into machine vision.
Highlights at the booth include a camera with a 50 MPixel CCD image sensor with a Camera Link interface, a machine vision camera with the new 31.36 MPixel Sony IMX342 CMOS image sensor, as well as cameras with 2.5GigE and 10GigE interfaces. The company was also showing its smart cameras, including one with an Intel Movidius Myriad 2 vision processing unit, which can be used for applications including barcode reading and deep-learning based optical character recognition. Another smart camera on display was an Intel X86 open platform camera, which allows customers to deploy their own software and algorithms in the camera.
Additionally, Hikvision showcased 3D cameras: a stereo 3D camera with structured light, and a laser scanning 3D sensor for accurate inspection of printed circuit boards and electronics.
"Customers are very interested in our smart cameras," said Huang. "We've also found people asking about applications such as panel inspection, and our new camera with 50 MPixel CCD is a great fit here."
Those looking to cool down from covering too many miles on the show floor had the chance to do so at the Baumer booth, where a large ice replica of one of its machine vision cameras sat at the front of the booth (pictured). Carved onto the camera and lens combo was "-40° to 70°C." (-40° to 158°F). These numbers represent the operating temperate range of its CX.I camera series, which are available with IP65/67 and IP69K housing accessories. The machine vision cameras were developed, according to Volker Zipprich-Rasch, Head of Product Management and Marketing at Baumer, because as image processing gets into more and more applications, customer requirements are growing.
As a result, Baumer developed the CX.I line of cameras and camera accessories designed for harsh environments in applications such as food and beverage inspection, pharmaceutical inspection, and machine vision.
"Developing these products is just one aspect of coming closer to specific application environments," he said. "The second is catching up to higher-speed requirements, which is why we developed our 10GigE camera series."
Baumer's LX 10GigE cameras offer liquid lens support, IEEE 1588 capability, integrated lihgint controller, and offer models with CMOS image sensors from ON Semiconductor and Sony. Additionally, Baumer showcased its QX series of 10GigE cameras, which feature an 8 GB internal image memory and are designed for process monitoring and motion analysis applications.
Looking forward, Baumer also offered a look at a prototype of its AX camera series, which is an open vision system that combines an NVIDIA Jetson TK1 with a camera and Linux operating system.
"Give your software a reliable home," is a phrase that Zipprich-Rasch mentioned, citing the camera's open platform and ability to run third-party software.
Regarding market developments, Zipprich-Rasch said that OPC Vision is a really interesting topic, and that it will "link sensor technology to a PLC and system" and fills a new gap by creating a protocal standard for machine-to-machine communication."
"OPC Vision will make it a lot easier to integrate a machine vision system and get data from one machine to another machine," he said.
High-speed imaging
A number of companies at the show highlighted the latest interfaces for high-speed imaging, including CoaXPress 2.0. One such company was Optronis, which showcased its new Cyclone series of CoaXPress 2.0 cameras. On display the booth were the Cyclone-2-2000 (2 MPixel CMOS image sensor, 2,000 fps) and Cyclone-5-700 (5 MPixel CMOS image sensor, 700 fps) cameras, which Dr. Patrick Summ, Managing Director said were among the first—if not the first—CoaXPress 2.0 cameras introduced in the market.
Smaller than the previous series of CoaXPress cameras from the company (65 x 65 mm vs. 80 x 80 mm), the cameras were tested with software from Euresys, BitFlow, and Matrox Imaging.
Optronis also had its latest high-speed cameras on display. The Sprinter-FHD high-speed camera, for example, offers a 1920 x 1080 CMOS image sensor, integrated memory, and TimeViewer software via GigE interface or Wi-Fi connection.
"We are a small company, but we believe we are operating in the state-of-the-art, and have been since 1986," said Summ. "We are always looking toward customers needs, as well. For example, we currently have a request for a camera with a 16 MPixel image sensor that can operate at 1000 fps, and we are working to meet this challenge."
Another company working with CoaXPress 2.0 is Euresys—as mentioned above. For Euresys, VISION 2018 represented the best show ever, by far, according to Marc Damhaut, CEO.
"First, there has been quite a lot of interest in our new EasyDeepLearning library," he said. "There are many applications that are difficult to solve with traditional machine vision applications where deep learning can be applied."
Launched at the show, EasyDeepLearning is a convolutional neural network-based image classification library that has been tailored, parametrized and optimized for analyzing images, particularly for machine vision applications. The library is already being used by a number of our customers in Asia, particularly for semiconductor and electronics inspection, according to Damhaut. Development of the software is due in part to a Belgian government funding project, which enabled Euresys to work with local universities to work on the library and to tailor the network for machine vision.
In terms of CoaXPress 2.0, Euresys recently launched its CXP-12 frame grabber, which was also on display at VISION. This CoaXPress 2.0 frame grabber offers four CXP-12 connects (5,000 MB/s camera bandwidth) and has a PCI Express (Gen 3) x8 bus and a set of 20 digital I/O lines.
Euresys also highlighted its Sensor to Image product line, including GigE, USB3, and CoaXPress IP Cores, as well as its new Easy3D is a set of software tools, which enable users to build 3D inspection applications that can generate depth maps from a series of images that contain a laser line projected on the inspected object and computes a calibration model applied to depth maps to transform them into calibrated 3D point clouds.
Optimism was the name of the game for Euresys and Damhaut, looking forward.
"In 2017, we grew significantly, and we will continue to grow even more in 2018," he said. "We now operate in Belgium, Germany, Japan, China, Singapore, and California, and we look forward to what the machine vision market has to offer in 2018."
For my last appointment of the day and the show, I visited with Emergent Vision Technologies, who recently announced the launch of a 25GigE camera series. Featuring a high-speed 25GigE interface, the cameras are available in eight models, with the following Sony image sensors and frame rates: IMX367 (19.5 MPixel, 43 fps), IMX342 (31 MPixel, 35.4 fps), IMX387 (16.8 MPixel, 61 fps), IMX420 (7 MPixel, 207.1 fps), IMX421 (2.8 MPixel, 409.2 fps), IMX422 (2 MPixel, 477.5 fps), IMX425 (1.76 MPixel, 662.1 fps), and IMX426 (0.5 MPixel, 1594.7 fps). 25GigE—like 10GigE—is a cross-industry standard managed and produced by the IEEE 802.3 working group.
One mode, the HB-50000, which features a 50 MPixel CMOS image sensor, was the recipient of a Platinum Level Award in the 2018 Innovators Awards from Vision Systems Design.
According to John Ilett, President, there was a significant amount of interest in the cameras at the show.
"These cameras were designed to target the same type of applications that CoaXPress cameras do, but at a lower cost."
One hurdle of using 25GigE cameras, explained Ilett, is high CPU usage and latency. To get out ahead of this potential problem, Emergent Vision Technologies partnered with Mellanox, which developed network interface controller (NIC) cards that are pre-programmed with VMA direct for the 25 GigE cameras, which helps with the issue of offloading, according to Illett.
Emergent Vision Technologies also showed its new ACCEL series of 25GigE line scan cameras, which feature 8K line scan CMOS image sensors from Teledyne e2v while achieving rates of 200 KHz (single line), 100 KHz (bilinear), and 66 KHz (trilinear).
In terms of the company's presence at the show, Emergent Vision Technologies seems to have established itself firmly in the machine vision market.
"Our line scan cameras have helped expose more machine vision applications to us," said Ilett. "In the past, we may have been perceived as less a machine vision company, but not so much now."
He added, "It is important to note that I believe that our awards and our interest at this show are reflective of the fact that we are pioneers in the machine vision market, having been the first to release 10GigE and 25GigE cameras to market."