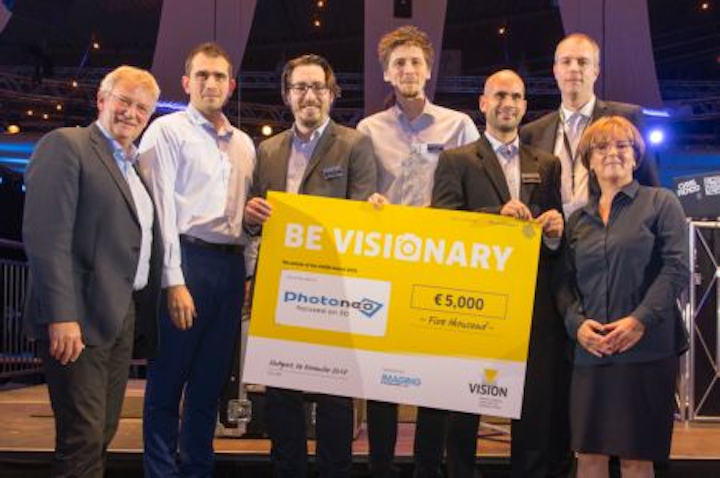 On November 6 in Stuttgart, Germany; Messe Stuttgart named Photoneo the winner of theVISION Award 2018innovation competition for its MotionCam-3D 3D camera.
Given at every VISION show to the company with the most innovative development in the machine vision sector, the award also comes with a prize of 5,000 euros. Photoneo's MotionCam-3D camera—previously known as the PhoXi 3D camera—is based on a technology patented by the company known as "Parallel Structured Light Technology." For the first time, according to Photoneo, the technology lets users capture high resolution images of moving objects at a maximum speed of 40 m/second.
The camera also features a custom CMOS image sensor and can produce a depth map of 1068 x 800 while scanning in motion and a depth map of 1602 x 1200 while static. Additionally, the 3D camera features an NVIDIA Maxwell GPU and a recommended scanning distance of 350 to 2000 mm.
Photoneo was founded in 2013 with the goal of revolutionizing 3D vision technology. Within a few years, the company went from startup to a company with approximately 80 employees and a global network of distributors and integrators. The VISION Award jury cited the company's high technological standards and the outstanding innovation of its submission, which reveals a completely new approach to the 3D acquisition of moving objects, according to a Messe Stuttgart press release.
"The market potential for 3D applications in machine vision is huge," said Gabriele Jansen, Managing Director of the M&A consulting firm, Vision Ventures and member of the VISION Award jury. "A whole portfolio of different 3D technologies is available for mastering the many different tasks. One technology, however, we have painfully missed so far: the high accuracy snap-shot area scan of large work areas in motion. Now Photoneo has closed the gap and is presenting the market with the Phoxi 3D Camera, a unique product to date."
View more information onPhotoneo.
Share your vision-related news by contactingJames Carroll,Senior Web Editor, Vision Systems Design

To receive news like this in your inbox, click here.
Join ourLinkedIn group | Like us on Facebook | Follow us on Twitter