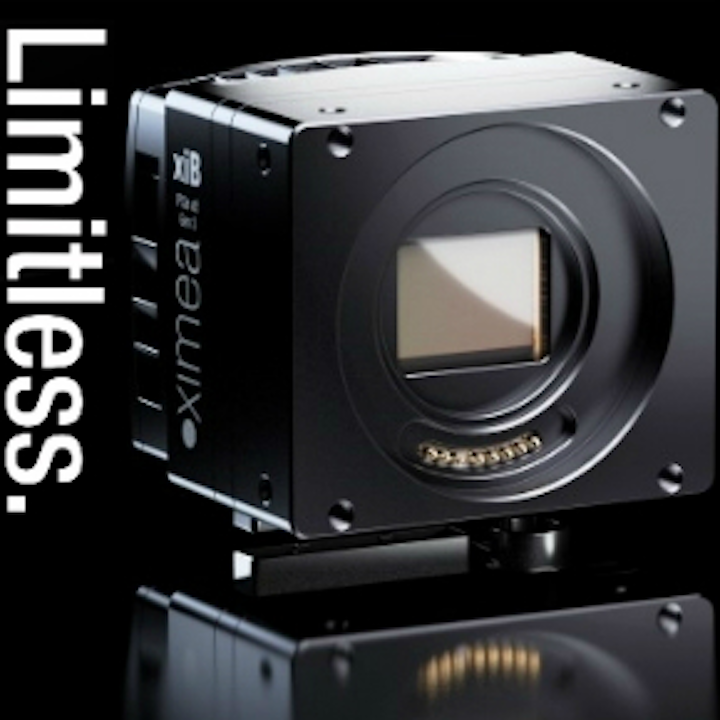 XIMEA is taking orders for the CB160 model of its xiB-64 camera line. The CB160 has a maximum resolution of 16 MPixel and can stream data at 64 Gbit/s up to 300m without frame grabbers or additional software due to a fast PCIe interface.
The CB160 utilizes the LUX160 sensor, manufactured by LUXIMA, that is 18.3mm x 13.3mm in size and features fast data throughput that can push 300fps at a full resolution of 4704 x 3424. A Canon lens EF-mount allows the user to remotely control aperture, focus, and image stabilization. The camera is 60mm x 70mm x 55mm in size with a weight of 268g and features trigger input and outputs for synchronization with external equipment and other cameras.
The XIMEA SDK/API is compatible with the Windows, Linux, and Mac OSX operating systems and can offer a full, real-time image processing pipeline on NVIDIA GPUs. Besides industrial uses, XIMEA also says the CB160 could be deployed for biomechanical, aerial and city mapping, ballistics, and sports broadcasting among other uses.
To Learn More:
Contact: XIMEA
Headquarters: Muenster, Germany
Product: CB160 16MPixel 300fpscamera
Key Features: PCle interface, 64 Gbit/s data streaming up to 300m, LUX160 sensors

What XIMEA says:
View more information on the CB160 16MPix 300fps camera.

View More Products| Locate a vendor or system integrator | Receive e-mail updates
Share your vision-related news by contacting Dennis Scimeca, Associate Editor, Vision Systems Design