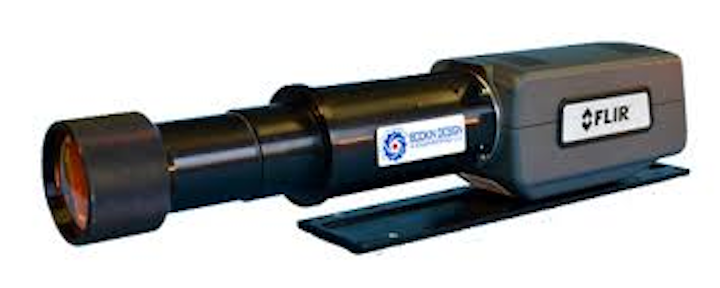 FLIR Systems has teamed up with electro-optics engineering firm Bodkin Design & Engineering to offer a hyperspectral imaging solution that enables users to collect any waveband of spectral and spatial information in one high-speed video frame.
By collecting both spectral and spatial information in one frame, the hyperspectral imaging system enhances the data stream while eliminating motion artifacts and maximizing signal-to-noise response. In the image provided by FLIR, the system appears to combine elements of Bodkin Design & Engineering's MWIR-60 video rate hyperspectral imager and a FLIR infrared camera. The MWIR-60 features a patent-pending technology and operates in the mid-wave infrared band, while offering a spectral band of 3 to 5 µm, a 17 x 13 x 60 data cube (17 x 30 spatial x 60 spectral), and a data rate of up to 60 cubes/s. Combined with FLIR's camera, the system can be optimized for the visible, NIR, SWIR, MWIR, or LWIR wavebands and can be interfaced with virtually any telescope or microscope.
The new hyperspectral imaging cameras, according to FLIR, are "massively parallel systems able to collect all three dimensions of the full three-dimensional hyperspectral data cube simultaneously." Incident photons from an imaged scene are detected in parallel by a two-stage optical processor and the device manipulates the data to any electronic detection or software processing, operating on the data set at the speed of light.
View more information on the hyperspectral imaging system.
Share your vision-related news by contacting James Carroll, Senior Web Editor, Vision Systems Design

To receive news like this in your inbox, click here.
Join our LinkedIn group | Like us on Facebook | Follow us on Twitter