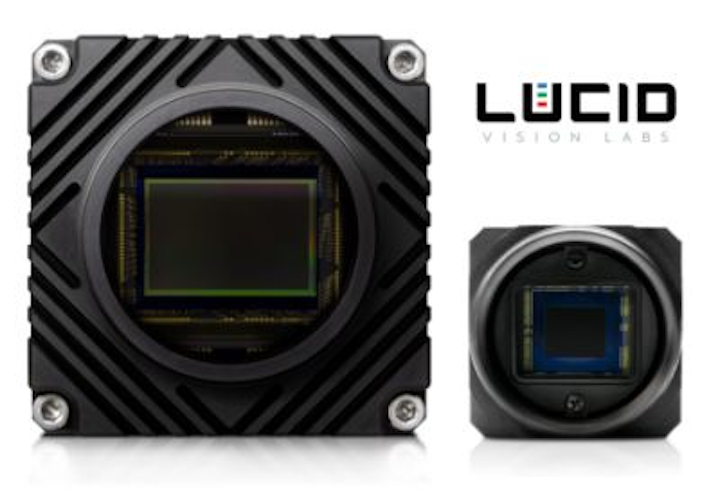 LUCID Vision Labs, Inc. will introduce its Triton and Atlas GigE Vision camerasat VISION 2018, which is held in Stuttgart, Germany from November 6-8. Triton cameras are GigE Vision and GenICam compliant machine vision cameras that measure 29 x 29 mm and feature IP67 protection. Available in color or monochrome with Sony CMOS image sensors ranging from 0.4 MPixel to 20 MPixel—including the 5 MPixel Sony IMX250MZR/MYR polarized sensors—the cameras also offer M12 Ethernet and M8 GPIO connectors and a sealed lens tube for harsh environments.
LUCID's Atlas camera is a 5GBASE-T Power over Ethernet camera series capable of 600 MB/s data transfer that features the 31.4 MPixel Sony IMX342, 19.6 MPixel Sony IMX367, and 16.8 MPixel Sony IMX387 CMOS image sensors in its three models. Atlas cameras also measure 55 x 55 mm and feature an M35 lens mount and active sensor alignment.
VISION 2018 booth number: Hall 1, Stand C62

To Learn More:
Contact: LUCID Vision Labs
Headquarters: Richmond, BC, Canada
Product: Triton and Atlas GigE Vision cameras
Key Features: 29 x 29 mm cameras with 0.4 MPixel to 20 MPixel Sony Pregius sensors, polarized models (Triton), 5GBASE-T PoE cameras with 16.8, 19.6, and 31.4 MPixel Sony Pregius sensors (Atlas).
What Lucid Vision says:
View more information on the Triton cameras.
View more information on the Atlas cameras.

View More Products| Locate a vendor or system integrator | Receive e-mail updates
Share your vision-related news by contacting James Carroll, Senior Web Editor, Vision Systems Design

To receive news like this in your inbox, click here.
Join our LinkedIn group | Like us on Facebook | Follow us on Twitter