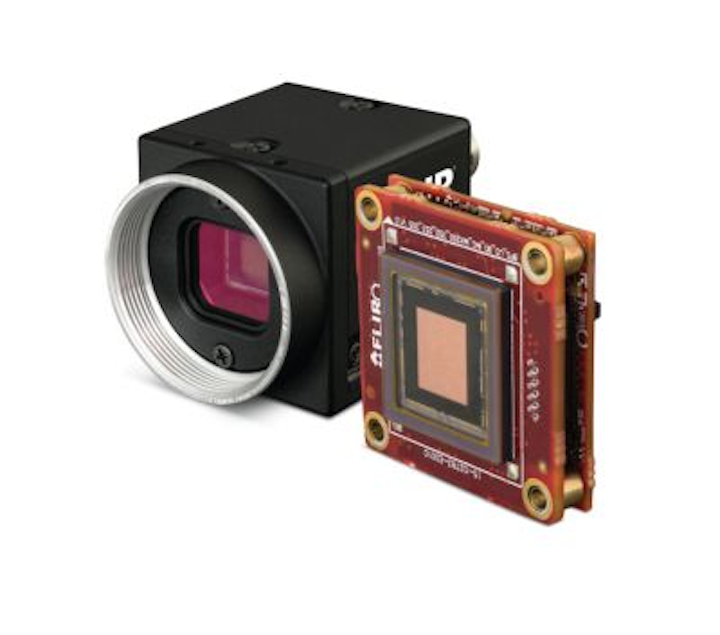 Expanding on its line of Blackfly S machine vision cameras, FLIR has announced the release of board-level models that are designed for integration into tight spaces, as they measure only 29 mm x 29 mm x 12 mm. Suitable for embedded vision applications including handheld devices or unmanned aerial vehicles, according to FLIR, the USB3 Vision cameras provide the full Blackfly S feature set, including both automatic and manual control over image capture and on-camera pre-processing, and are available in both color and monochrome versions.
Compatible with Windows and Linux on ARM, x64 and x86 hardware, the initial cameras will be based on the Sony Pregius IMX250 (5 MPixel, 75 fps), and the Sony Pregius IMX264 (5 MPixel, 35 fps). Additionally, the cameras use a flexible printed circuit (FPC) connector, low profile JST GPIO connector, and do not come with a fixed lens mount.
To Learn More:

Contact:FLIR (Formerly Point Grey)
Headquarters: Richmond, BC, Canada
Product: Blackfly S board-level machine vision cameras
Key Features: 29 mm x 29 mm x 12 mm board-level design, monochrome and color versions, USB3 Vision interface, Sony Pregius CMOS image sensors.
What FLIR says:
View more information on Blackfly S cameras.

View More Products| Locate a vendor or system integrator | Receive e-mail updates
Share new products that you think are particularly interesting or helpful by contacting James Carroll, Senior Web Editor, Vision Systems Design.
Share your vision-related news by contacting James Carroll, Senior Web Editor, Vision Systems Design

To receive news like this in your inbox, click here.
Join our LinkedIn group | Like us on Facebook | Follow us on Twitter