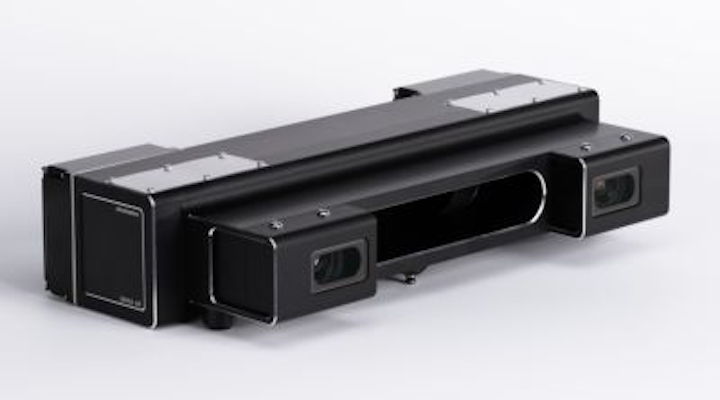 At VISION 2018 in Stuttgart, Germany; Chromasens will showcase its 3DPIXA dual 200 µm HR 3DPIXA 3D line scan camera, which offers a 55 in. field of view for inspection applications such as automotive manufacturing and food processing. The 3D machine vision camera features a 7296-pixel RGB trilinear CCD line sensor with a 10 µm pixel size that offers an optical resolution of 200 µm/pixel.
Additionally, the IP50-rated camera offers a height resolution up to 60 µm (400 mm), a free working distance of 1646.3 mm, a maximum speed of 4240 mm/s, and throughput up to 6.8 Gbit/s or 850 MB/s. Support for libraries from HALCON (MVTec), MIL (Matrox), LabVIEW (National Instruments), and Coake (SAC), along with Chromasens' own 3D-API, making it possible for programmers to design and perform 3D image processing applications, according to the company.
VISION 2018 booth number: Hall 1, Booth 1C61
To Learn More:
Contact:Chromasens
Headquarters: Konstanz, Germany
Product: 3DPIXA dual 200 µm HR 3D line scan camera
Key Features: Tri-linear CCD line scan image sensor (RGB, 7296 pixel), optical resolution of 200 µm/pixel, field of view of 1400mm (55in.)
What Chromasens says:
View more information on the camera.

View More Products| Locate a vendor or system integrator | Receive e-mail updates
Share your vision-related news by contacting James Carroll, Senior Web Editor, Vision Systems Design

To receive news like this in your inbox, click here.
Join our LinkedIn group | Like us on Facebook | Follow us on Twitter