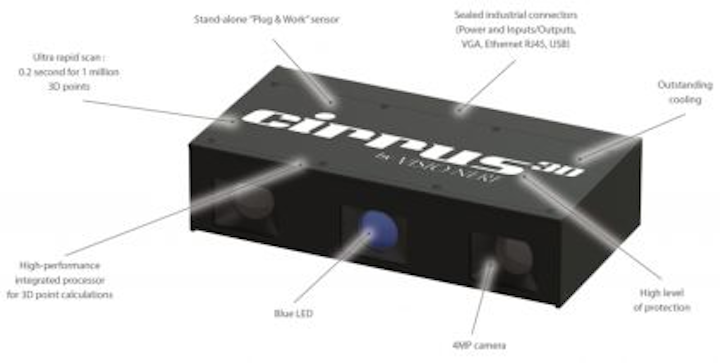 At VISION 2018 in Stuttgart, Germany; Visio Nerf will highlight its cirrus3D line of 3D sensors, which are used in applications such as robotic guidance and inline parts inspection. The cooled sensors feature 4 MPixel CMOS image sensors, an integrated processor for 3D point calculations, a blue LED structured light, and are available in six models, which offer working distances of 300, 450, 950, 1250, 1900, and 2500 mm, as well as 3D image resolution in mm (z) of 0.1, 0.2, 0.45, 0.9, 1.5, and 1.8 mm. Additionally, the sensors feature eyesberg3D image processing software, Ethernet interface, and IP65 protective housing.
VISION 2018 booth number: Hall 1, Booth 1Z80

To Learn More:

Contact:Visio Nerf
Headquarters: Nuaillé, France
Product: CIRRUS 3D smart sensors
Key Features: Six models with varying working distance and vision volume, minimum working distances (mm) from 300 to 2500, 3D image resolution (mm) from 0.1 to 1.8, 4 MPixel CMOS sensors.
What Visio Nerf says:
View more information on the 3D sensors.

View More Products| Locate a vendor or system integrator | Receive e-mail updates
Share new products that you think are particularly interesting or helpful by contacting James Carroll, Senior Web Editor, Vision Systems Design.