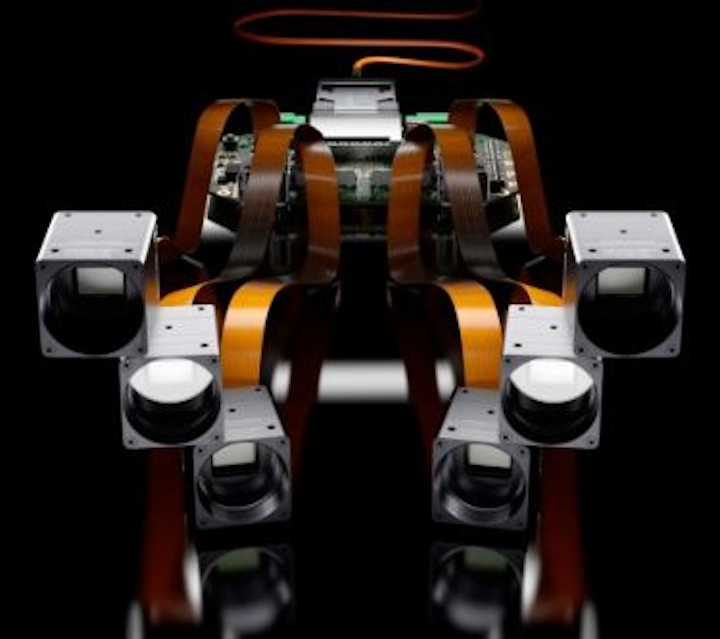 At VISION 2018 in Stuttgart, XIMEA will showcase several new machine vision and scientific cameras, including its embedded vision and multi-camera models, the xiX line. These PCI Express cameras (pictured) are designed for multi-camera setups and can be connected to a XIMEA xSwitch board through flex-ribbon cables and are offered with CMOS image sensors from ams Sensors Belgium (CMOSIS), and Sony ranging from 2 to 50 MPixels in size.
XIMEA will also showcase its award-winning 18 MPixel subminiature USB3 camera, Peltier TE-cooled scientific CMOS cameras with back illumination (xiB-S), and new 26 MPixel (150 fps) and 67 MPixel (85 fps) models in the xiB-64 family of PCI Express cameras. Additionally, XIMEA will have scientific/astronomy camera models and new X-Ray cameras based on sCMOS image sensors on display at the booth.
VISION 2018 booth number: Hall 1, Stand 1C51

To Learn More:
Contact: XIMEA
Headquarters: Münster, Germany
Products: Embedded vision cameras, 18 MPixel subminiature USB3 camera, scientific sCMOS cameras with BSI, new xiB-64 PCI Express cameras, scientific/astronomy cameras, new X-Ray cameras.
Key Features: PCI Express interface with 64 Gbit bandwidth, CMOS sensors from Sony and ams Sensors Belgium (2 to 50 MPixel), connection to XIMEA xSwitch through flex-ribbon cables (xiX line).
What XIMEA says:
View more information on the xiX line of cameras.
View More Products| Locate a vendor or system integrator | Receive e-mail updates
Share your vision-related news by contacting James Carroll, Senior Web Editor, Vision Systems Design

To receive news like this in your inbox, click here.
Join our LinkedIn group | Like us on Facebook | Follow us on Twitter