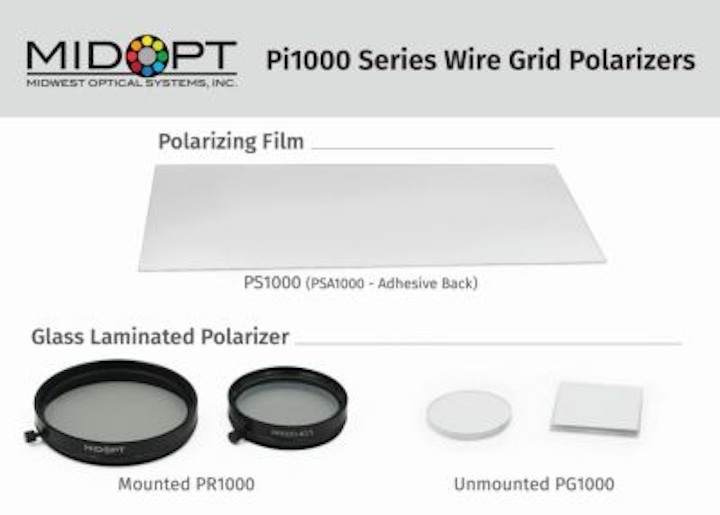 At VISION 2018 in Stuttgart, Germany, Midwest Optical Systems, Inc. (MidOpt), will showcase its new wire-grid polarizer, the MidOpt Pi1000, which is effective in both the visible and infrared, ranging from 400 to 2000 nm. The polarizer, which mounts onto the lens, has an average contrast ratio of up to 10,000:1 and has an operating temperature rating of 100° C per 1,000 hours.
Also on display will be the company's shortwave infrared (SWIR) filters, which enhance the image quality of InGaAs camera technology in applications imaging from 900 to 2300 nm. Visitors can also enter to win a free FK200 filter kit, which features 10 bandpass filters.
VISION 2018 booth number: Hall 1, Stand 1G53

To Learn More:
Contact: MidWest Optical Systems, Inc.
Headquarters: Palatine, IL, USA
Products: MidOpt Pi1000 polarizer, SWIR filters.
What MidOpt says:
View more information on the MidOpt Pi1000.
View more information on MidOpt filters.

View More Products| Locate a vendor or system integrator | Receive e-mail updates
Share your vision-related news by contacting James Carroll, Senior Web Editor, Vision Systems Design

To receive news like this in your inbox, click here.
Join our LinkedIn group | Like us on Facebook | Follow us on Twitter