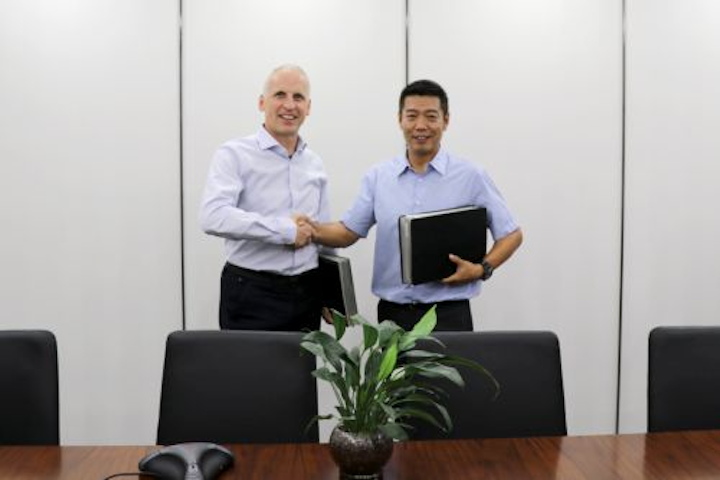 Global industrial camera manufacturer Baslerhas signed a joint venture agreement with its Beijing Sanbao Xingye (MVLZ) Image Tech. Co., Ltd., that strengthens the company's position in China.
A leading Chinese distributor of image processing components, Beijing Sanbao Xingye (MVLZ) Image Tech. Co. has been Basler's distribution partner in China for nearly 20 years. As part of the new deal, both companies have agreed to transfer the machine vison division to the newly-established, Beijing-based Basler Vision Technology China, with branch offices in Shenzhen and Shanghai.
The founding of Basler Vision Technology China—which will be staffed by employees of both companies—brings the manufacturer and its customers closer together, with the range of offerings increasingly geared to local requirements in the future, according to Basler.
"Sanbao Xingye (MVLZ) and Basler have been working together for many years in a trusting and successful manner. We are proud to join forces – pairing our leading-edge technology and manufacturing know-how with MVLZ's superb consulting competence and market insight," explains Dietmar Ley, CEO of Basler AG.
Guan Qunli, Chairman of Sanbao Xingye (MVLZ): "We are pleased to announce the joint venture with Basler AG, the industry leader in industrial cameras, with an excellent reputation and a world-leading brand. By bundling our strengths, we will serve our customers even better in the future and offer our employees attractive future prospects."
Asia, and China in particular, represents a strategic growth region for Basler, the company stated in its press release. This move extends the company's direct presence in the Chinese market.
Pictured: Dietmar Ley (CEO, Basler AG), Guan Qunli (Chairman of Sanbao Xingye (MVLZ)
View more information on Basler.
Share your vision-related news by contacting James Carroll, Senior Web Editor, Vision Systems Design

To receive news like this in your inbox, click here.
Join our LinkedIn group | Like us on Facebook | Follow us on Twitter