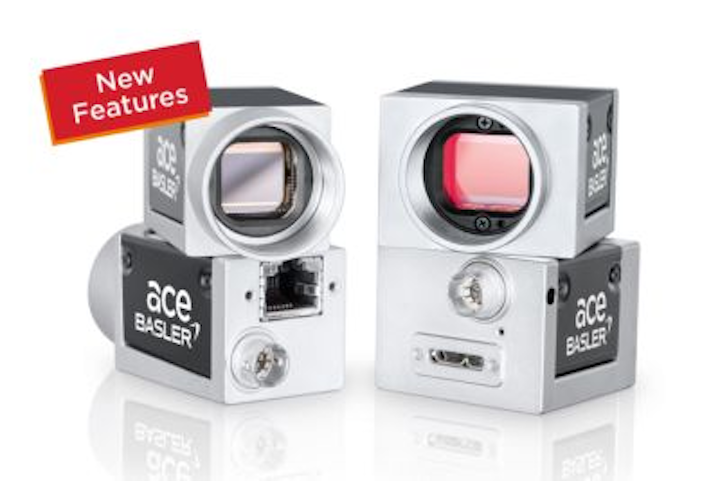 Basler has expanded the image processing options of its ace machine visioncamera series with two new features: PGI for monochrome cameras and stacked region of interest (ROI) to select multiple regions of interest. These features are available in selected models of the ace U and ace L product lines.
PGI is a combination of 5x5 debayering, color-anti-aliasing, denoising, and improved sharpness that Basler says has already simplified color applications in many areas and even enabled applications that weren't previously possible. PGI for monochrome cameras is available for the entire ace L product line and all ace U models with Pregius CMOS sensors from Sony and PYTHON CMOS sensors from ON Semiconductor.
With stacked ROI, the focus in an application can now be directed to multiple regions of interest at the same time. Selecting multiple ROIs, according to Basler, allows users to increase speed and reduce data load when reading image data. Stacked ROI includes the use of up to eight (four for the Sony IMX174) stacked zones which are adjustable in height. Basler offers the feature integrated in the FPGA for all ace U and ace L models with PYTHON sensors from ON Semiconductor and the following Sony Pregius sensors: IMX174, IMX252, IMX250, IMX255, IMX253).
To Learn More:

Contact:Basler
Headquarters: Ahrensburg, Germany
Product: ace U and ace L industrial cameras
Key Features: Stacked ROI and PGI feature set for monochrome models.

What Basler says:
View more information on the new features.
View More Products| Locate a vendor or system integrator | Receive e-mail updates