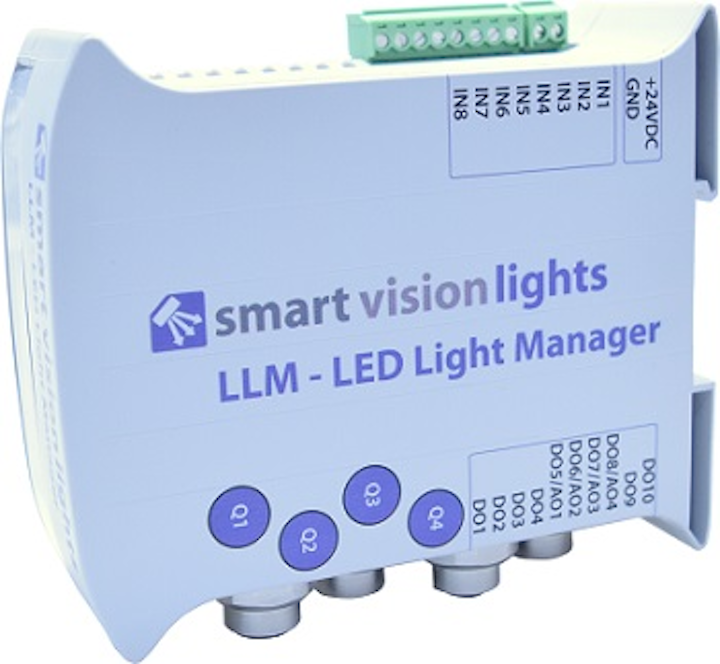 Designed for multi-light machine vision systems, including photometric, 3D, and multispectral systems, the LED light manager (LLM) from Smart Vision Lights—a Silver-Level honoreein 2018 Innovators Awards—the can drive up to four separate lights of any type or up to four individual quadrants or channels. Each program can contain up to four sequences with up to four lights set to continuous on, off, any intensity level in between, and even OverDrive sstrobe mode, according to the company. The four quadrants of a single LED system, such as a ring light or four separate LED light sources, can be programmed by connecting the LLM to a computer via Ethernet cable, and a browser-based interface enables the programming of the light through a series of drop-down menus.
Learn More:

Contact: Smart Vision Lights
Headquarters: Muskegon, MI, USA
Product: LED light manager (LLM)
Key Features: Drives up to four separate lights or up to four individual quadrants or channels of an LED light, browser-based programming interface.

What Smart Vision Lights says:
View more information on the LLM system.

View More Products| Locate a vendor or system integrator | Receive e-mail updates
Share your vision-related news by contacting James Carroll, Senior Web Editor, Vision Systems Design

To receive news like this in your inbox, click here.
Join our LinkedIn group | Like us on Facebook | Follow us on Twitter