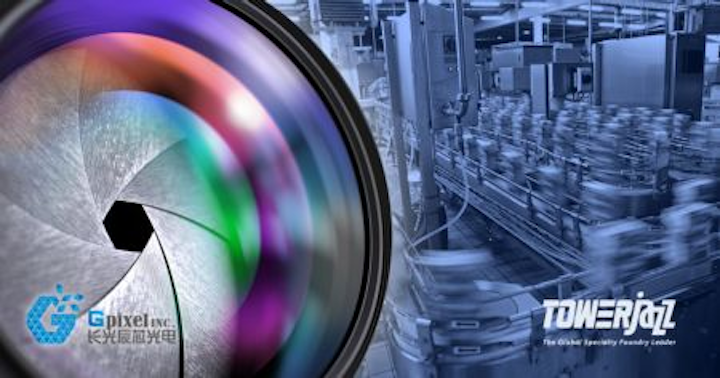 CMOS image sensor company Gpixel Inc. and specialty foundry company TowerJazz have collaborated to create a CMOS image sensor that reportedly has the world's smallest global shutter pixel.
The GMAX0505 25 MPixel CMOS image sensor from Gpixel Inc. is based on TowerJazz's 2.5 µm global shutter pixel in a 1.1" optical format with the highest resolution in C-Mount optics. The new CMOS sensor targets machine vision, intelligent transportation systems, and surveillance applications. The sensor—which can achieve a frame rate of up to 150 fps—integrates chip sequencer, which reduces the design effort on the camera board. The sensor is also assembled in a ceramic Land Grid Array (LGA) package, allowing easy integration and mass production, according to Gpixel.
As it currently stands, according to TowerJazz, the smallest pixel available for high-end applications used in the market is 3.2 µm. The global shutter pixel is integrated with a unique light pipe technology and features more than 80 dB shutter efficiency despite its small size and low noise (one electron.) Gpixel has started prototyping its GMAX0505 using TowerJazz's state of the art, 65nm technology on a 300mm platform in its Uozu, Japan facility.
"TowerJazz has been an important and strategic fab partner of Gpixel for many years. We are very pleased with the support of great technology innovation from TowerJazz with our current global shutter sensor families, backside illuminated scientific CMOS sensor solutions and today, the next generation global shutter industrial sensor product family," said Dr. Xinyang Wang, CEO of Gpixel, Inc.
He continued, "The GMAX0505 is our second product after our first 2.8 µm pixel product that is already ramped up into production at TowerJazz's Arai fab in Japan. We are very excited and looking forward to seeing more products using this pixel technology in the near future. The successful introduction of the new 25Mp product will bring our customers a unique advantage in the growing demand of machine vision applications."
Dr. Avi Strum, TowerJazz Senior VP and General Manager of CMOS Image Sensor Business Unit, also commented: "We are very excited to be the first and only foundry in the world to offer this new technology – the smallest global shutter pixel available. Through our collaboration with Gpixel, we are able to create a compact package design which allows for miniature camera design."
View a press release on the announcement.
Share your vision-related news by contacting James Carroll, Senior Web Editor, Vision Systems Design

To receive news like this in your inbox, click here.
Join our LinkedIn group | Like us on Facebook | Follow us on Twitter