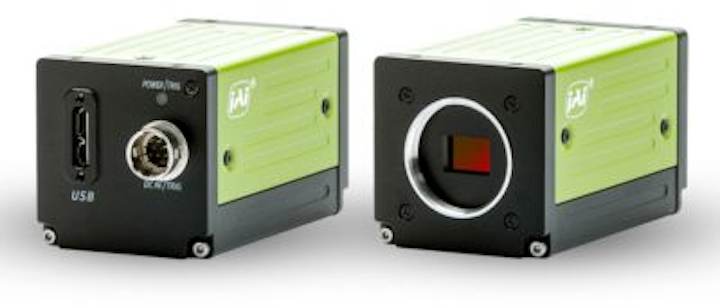 New to the Apex series of 3-CCD and 3-CMOS area scan industrial cameras is the Apex AP-3200T-USB, which offers more accurate per-pixel color values than those derived from Bayercolor cameras with interpolation routines, according to JAI. The camera is based on three Sony Pregius IMX265 CMOS image sensors, which is a 1/1.8", 3.2 MPixel sensor with a 3.45 µm pixel size. Through the camera's USB3 Vision interface, it can acquire as much as 3 x 3.2 megapixels at 38.3 fps and a has a data throughput of 350 MB/s, which is more than three times faster than previous 3-CCD models.
Features on the camera include a color space conversion tool, analog gain and exposure setting for each individual R-G-B channel, single and multi-region of interest modes, a color enhancer tool, an edge enhancer tool, automatic level control, and more.

To Learn More:

Contact: JAI
Headquarters: San Jose, CA, USA
Product: Apex AP-3200T-USB 3-CMOS camera
Key Features: Prism technology separates incoming light into red, green, and blue wavelengths which are directed to three precisely-aligned 3.2 MPixel Sony Pregius IMX265 CMOS image sensors.
What JAI says:
View more information on the Apex AP-3200T-USB.

View More Products| Locate a vendor or system integrator | Receive e-mail updates
Share your vision-related news by contacting James Carroll, Senior Web Editor, Vision Systems Design

To receive news like this in your inbox, click here.
Join our LinkedIn group | Like us on Facebook | Follow us on Twitter