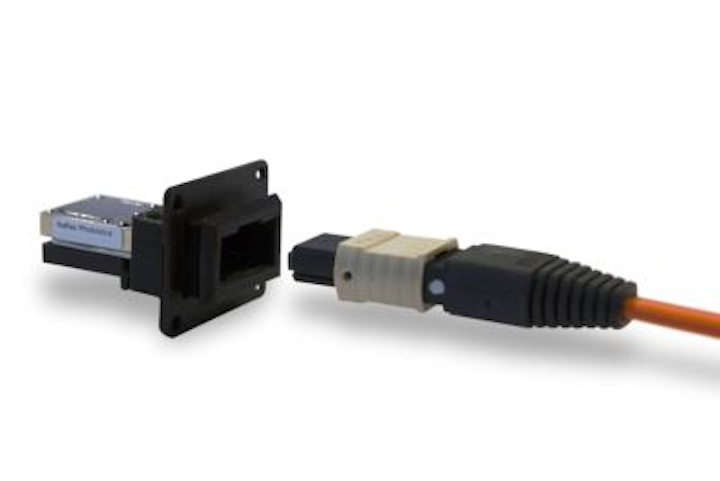 Reflex Photonics, a Canadian company that develops embeddedoptical transceiver modules, has expanded into industrial and high-end space applications with the release of two new product lines.
LightVISION industrial optical modules (pictured) are screw-in, RoHS generic parts that can have a variety of optical interfaces, including the LightSNAP, which adds a standard MPO pluggable optical interface to the module. This, according to the company, offers a standard MPO cable connection with a board-mounted optical engine. LightVISION modules target applications such as machine vision, automotive, Industry 4.0, and high-resolution or high-speed cameras.
Reflex Photonics also announced the release of its LightSPACE embedded optical modules, which are rugged devices engineered to withstand radiation doses as per the European Cooperation for Space Standardization ECSS-Q-ST-60-15C, while offering bandwidth greater than 150 Gbps in a chip-size package.
Guillaume Blanchette, Product Manager at Reflex Photonics commented: "With the introduction of the LightSPACE and the LightVISION line of products in Q1 2018, we have broadened our portfolio to address the rugged, high-speed optical interconnect needs of equipment developers for space and industrial markets. The growing number of applications we will be able to develop with these new customers is truly exciting. One such applications is high-speed cameras where the LightVISION will outclass pluggable optical module on environmental requirements, as well as size and power consumption."
This past November, I had the chance to meet with Blanchette and his colleague, Jean-François Cyr, at their Kirkland, QC, Canada headquarters. During this meeting, Blanchette explained that while these types of products have been used for several years now, what Reflex Photonics offers is flexibility and rugged design.
"We position ourselves as a supplier of rugged transceivers," he said. "The products are completely filled and covered with gels and epoxy, and humidity cannot get into them, unlike others."
Benefits of using such a product over the alternative, according to Blanchette, include efficiency and flexibility.
"Our products allow replacement of copper or coaxial cables with optical fiber links. With our optical transceivers and interconnect the signal will not be attenuated as it may be in copper cables when you reach a certain transmission level. In addition, reach can extend up to 150 m and optical interconnect is not affected by electromagnetic waves."
View more information on Reflex Photonics.
Share your vision-related news by contacting James Carroll, Senior Web Editor, Vision Systems Design

To receive news like this in your inbox, click here.
Join our LinkedIn group | Like us on Facebook | Follow us on Twitter