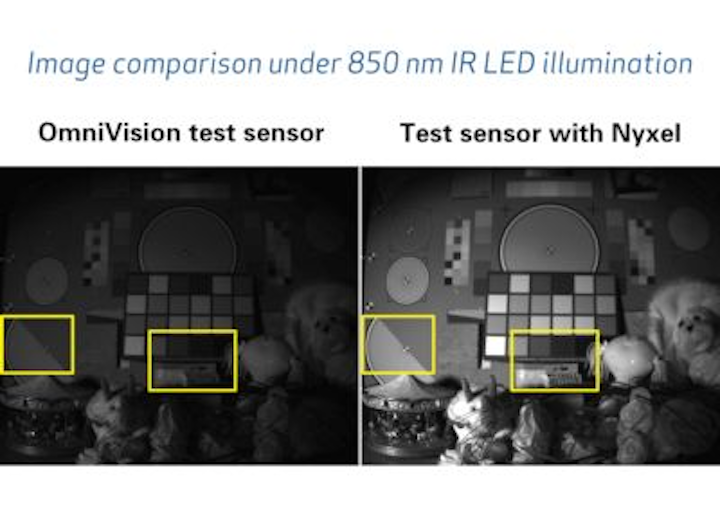 Digital imaging developer OmniVision Technologies, Inc. and VATICS Inc., a multimedia communication system-on-chip (SoC) solutions provider have collaborated to develop a near-infrared (NIR) IP camera solution for 5 MPixel indoor and outdoor surveillance systems.
VATICS' M5S SoC combines an ARM Cortex processor core, a CEVA DSP, a SmartHEVC/AVC new generation of image signal processor, a de-warping hard core, and advanced audio and video analytics, according to Joseph Wei, senior marketing director at VATICS.
"This SoC integration allows developers to create distinctive features in their applications, including 180°/360° wide-angle professional IP cameras with advanced video analytics for surveillance scenes under low- and no-light conditions using OmniVision's OS05A20 sensor," he said.
OmniVision's 0S05A20 CMOS image sensor is the first sensor to implement the company's new Nyxel technology, which leverages novel silicon semiconductor architectures and processes that address the inherent challenges in NIR detection in image sensors. Nyxel combines thick-silicon pixel architectures with careful management of wafer surface texture to improve QE, along with extended deep trench isolation (DTI) to help retain (modular transfer function) MTF without affecting the sensor's dark current. The sensor itself is a 5 MPixel color CMOS image sensor with NIR sensitivities exceeding 850nm and a capture rate of 60 fps with 2688 x 1944-pixel images.
"Today's surveillance cameras often fail to capture adequate details at night, making it difficult to identify intruders. Furthermore, many systems use power-hungry LEDs to augment lighting, which not only increases power consumption but also reveals the location of hidden cameras," said Roger Yeung, product marketing manager at OmniVision. "Our new OS05A20 image sensor with Nyxel™ technology tackles these problems with its high sensitivity to NIR light. Since NIR photons from ambient light are more prevalent at night, the OS05A20 can capture higher-resolution images by itself, reducing the need for augmented lighting.
View more information on the M5S SoC.
View more information on the 0S05A20.
Share your vision-related news by contacting James Carroll, Senior Web Editor, Vision Systems Design

To receive news like this in your inbox, click here.
Join our LinkedIn group | Like us on Facebook | Follow us on Twitter