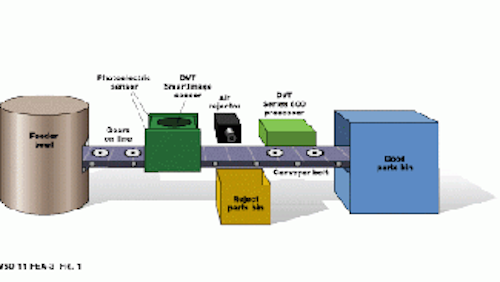 Smart cameras CUT INSPECTION COSTS
By Michael Schreiber and Jeff Hawkins
Integrators of machine-vision systems are always looking for ways to improve performance and reduce the cost of their systems so that they can pass these benefits on to their customers. Applications such as inspection of cans, bottles, and mechanical parts can require the use of multiple cameras. Multiple inspection points require additional components, making the cost and complexity of integration considerably greater. To meet these needs, OEMs are developing smart camera systems that eliminate the dependence on frame grabbers and the RS-170 video standard. These systems integrate a CCD, image-capturing capabilities, and CPU all in one system.
Integrated intelligent sensor systems provide manufactureres with rapid deployment of vision systems, as well as low-cost solutions. Better yet, image processing is performed by each camera, and video-system bandwidth is reduced dramatically, greatly improving system performance. Should a a part pass or fail, only a single instruction needs to be sent from the camera to the machine-vision control system.
Designing smart systems
Horizontal jitter in frame-grabber-based systems can result in poor image quality that can affect inspection accuracy and system repeatability. By integrating cameras, frame grabbers, and a computer into a single system, cost, size, and installation time of a traditional machine-vision solution is reduced. Such systems can eliminate the limited gray-scale quantization of traditional vision systems by directly digitizing image data from a CCD.
By directly controlling the CCD, accurate inspection and superior image stability can be obtained at various production speeds. Shifting all or part of the image from the CCD directly into the memory of the embedded system eliminates the causes of image-accuracy errors and instability. And because image acquisition can be performed virtually independently of the host processor, part inspection is faster.
Employing smart systems
Using a SmartImage sensor from DVT (Norcross, GA), Mallory Controls (Sparta, TN) recently designed and built a vision station to inspect motor gears. In the past, quality checks on the gears were performed manually--a process that was susceptible to human error. To inspect the gears automatically, Mallory first built an automated inspection line that used an articulating arm to place each gear in position for inspection. While effective, the system could only inspect gear parts at speeds of up to 30 parts per minute.
To accelerate the inspection to more than 150 parts per minute, a feeder bowl and conveyor line were designed and SmartImage sensors used (see Fig. 1). Even with this approach, Mallory faced a number of challenges that could slow the inspection of the gears. For high-speed inspection, the system was required to compensate for the gear position and orientation, perform three inspections simultaneously on a moving part, and properly illuminate a translucent part of less than 1-in. diameter while the part was moving.
In the system, a gear is moved to the inspection area, loaded into the feeder bowl, and pushed by an air stream onto the conveyor. The conveyor carries it toward the inspection point. A photoelectric sensor triggers the inspection at the same time that the part passes over an LED strobe that fires, producing a backlit image. The image is captured by the CCD and stored in systems memory for evaluation. If the gear successfully satisfies all the inspection requirements, it is accepted and taken to the production floor for final assembly in motors.
For each gear, three separate quality checks are performed. Each gear must have the correct number of teeth, must be aligned, and must be correctly spaced with no damage or surface contamination. If the part fails any of the inspection requirements, it is blown off the line into a reject bin, and the bad part`s image is stored for later evaluation (see Fig. 2).
Performing quality checks
To develop the system to inspect the gears, Mallory used DVT`s FrameWork, a Windows-based software package that interfaces to the CPU in the intelligent sensor system over an RS-232 link. Once configured, the PC can be removed because it is not required for everyday operation.
Using FrameWork, developers can transfer captured images from the sensor and customize the inspection process to build pass/fail inspection systems (see Fig. 3). By drawing inspection paths on the image, line lengths and widths can be counted. For more sophisticated inspections, built-in modules such as feature counting can perform image inspection.
If the systems integrator is producing more than one product on a given manufacturing line, many different product configurations can be saved in the system, each with its own set of inspection parameters. By combining a programmable logic controller or other external logic device, the system can be programmed to inspect different products in less than 2 ms.
By combining innovative material handling, intelligent sensors, and a Windows-based software package, Mallory Controls increased their production rate by eightfold, guaranteed 100% inspection of each gear, and virtually eliminated the possibility of shipping faulty gears to its customers.
Figure 1. Gears are placed in a feeder bowl and move down a conveyor belt to the point of inspection. A photoelectric sensor triggers a flashlamp, and the image is captured. Images are then inspected and, if they fail, are blown off the line by an air reject jet. If they pass, they continue down the line to the good-parts bin.
Figure 3. Good and bad gears can be inspected at speeds of greater than 150 parts per minute. Here, the system has identified a good part (top) and a gear with missing teeth (bottom).
Michael Schreiber is applied engineering manager at DVT, Norcross, GA 30093. Jeff Hawkins is director of quality engineering at Mallory Controls, Sparta, TN 38583-6200.