New Products
Color camera uses three chips; Monitor/keyboard fits in drawer; Camera packs system power; Camera focuses on near-infrared; and more.
Nov 1st, 1999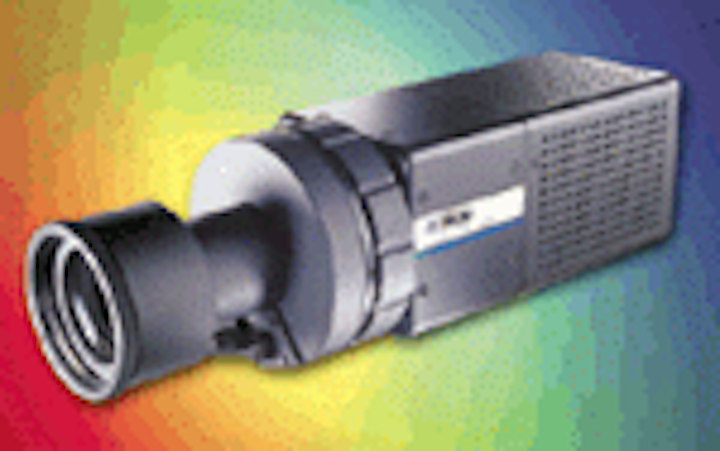 Color camera uses three chips The TR-31 and TR-32 Trillium color linescan cameras use prism beamsplitting technology with dichroic (interference) filters and three custom IL-CC sensors to deliver three color signals (red, green, and blue) from a common optical axis for inspection applications. At 1024- or 2048-pixel resolution, the camera's three channels transmit EIA-644 (LVDS) data at 25 MHz, each resulting in up to a 21-kHz line rate, with an 8-bit output from 10-bit digitization. The TR-31 camera comes with a Nikon F lens mount; an associated 55-mm lens is optional; the TR-32 camera offers a Canon FD lens mount and an optional ƒ/1.4 matched lens. Integrated signal processing by a 32-bit microprocessor helps perform programmability, pixel-by-pixel flat-field correction for FPN, PRNU, and automatic white-color balancing. An optional beamsplitter-matched lens provides black to white with a single transition pixel. Self-calibration and self-color balancing capabilities adapt automatically to changing lighting conditions. Dalsa Inc.,605 McMurray Rd., Waterloo, Ontario, Canada N2V 2E9; (519) 886-6000; Fax: (519) 886-8023.
Monitor/keyboard fits in drawer The lockable GFA FoldAway monitor comes with a color TFT LCD display and a keyboard that slides into a 3.5-in. vertical rack drawer. It can be located up to 10 ft away from one or more host computers. The EIA-RS-310C/IEC-297-3 drawer is mounted on ball-bearing slides, and the display flips up for viewing. Two LCD displays are available—800 x 600-pixel, 12.1-in. diameter, or 1024 x 768, 13.3-in. diameter. Screen brightness is 150 nits, and viewing angle is 90°. An analog input interface connects to a VGA/SVGA/XGA video port. The keyboard comes with a wrist rest and a GlidePoint touchpad. CyberResearch Inc.,25 Business Park Dr., Branford, CT 06405; (203) 483-8815; Fax: (203) 483-9024.
Camera packs system power The 117 x 50 x 36-mm, progressive-scan CCD VC65/C camera provides 24-bit RGB color capabilities, up to 8 Mbytes of RAM, 2 Mbytes of Flash EPROM, 782 x 582-RGB pixels, shutter speeds from 1/100,000 to 20 s, and an on-board DSP. Optically isolated industry input/ output signals include four 12-24-V inputs and four 150-mA outputs. Other features include an RS-232 serial interface, CCIR video output, and a pixel-identical sensor readout. When combined with AIT-Goehner's ESPRI-C software, the camera can serve as a stand-alone color vision system and additionally perform metrology, gray-scale normalized correlation, and blob-analysis checks. Vision Components,478 Putnam Ave., Cambridge, MA 02139; (617) 492-1252; Fax: (617) 492-1252.
Camera focuses on near-infrared The SU320-SMC near-infrared camera incorporates a 320 x 256-element InGaAs image sensor that is sensitive in the 900-1700-nm spectral range, offers a quantum efficiency of more than 70%, and needs no external cooling. It provides digital and video outputs, selectable integration times using an external trigger, and RS-170 and CCIR compatible video output. Camera is compatible with many analog and digital frame-grabber boards. Sensors Unlimited Inc.,3490 Rt. 1, Bldg.1, Princeton, NJ 08540; (609) 520-0610; Fax: (609) 520-0638.
Camera offers high resolution The 29 x 44 x 88-mm Teli CS3910 digital black-and-white, noninterlaced, 2/3-in. CCD camera provides a 1300 x 1030-pixel resolution. It outputs 10-bit digital video signals via an EIA-644 interface or a 1.0-Vp-p/75-Omega analog output. Key features include a C-mount, 1/30-1/10,000-s electronic shuttering, 2.9-W power consumption, and a 50-dB signal-to-noise ratio. Seiwa Optical Co.,50 Tice Blvd., Woodcliff Lake, NJ 07675; (201) 505-0303; Fax: (201) 505-0444.
Lenses focus on CCD cameras A series of C-mount lenses targets CCD-area and CCD-linescan cameras in all formats up to 1 in. These lenses feature field correction for high-speed imaging and color correction for visual and near-infrared ranges. They provide high resolution over the whole field range and ensure stability by a manual lockable focus and iris mechanism. Rodenstock Precision Optics Inc.,4845 Colt Rd., Rockford, IL 61109; (815) 874-8300; Fax: (815) 874-6374.
Software handles 3-D images The Windows-based 3D-Doctor, version 2.1, three-dimensional (3-D) software accommodates image processing and 3-D rendering from CT, MRI, microscopy, and other volumetric images. It automatically segments 3-D CT or MRI images to extract object boundaries and generates 3-D surface model and volume rendering for 3-D visualization and animation. The software can save 3-D models to standard 3-D formats, such as DXF and STL, for fast prototyping of an object or to VRML for Internet display. Able Software Corp.,5 Appletree Lane, Lexington, MA 02420; (781) 862-2804; Fax: (781) 862-2640.
Monochrome camera shrinks size The XC-ST70 black-and-white, analog, video camera features a 2/3-in. interline transfer CCD with hold-accumulated-diode (HAD) sensor technology. It provides a 50% size and weight reduction, control switches on the rear panel, a minimum sensitivity of 0.3 lux, and a signal-to-noise ratio of 60 dB. Electronic shutter speeds range from 1/100 to 1/10,000 s, and a 12-pin connector conforms to the EIAJ standard. Sony Electronics Inc.,1 Sony Dr., Park Ridge, NJ 07656; (201) 358-4170; Fax: (201) 358-4401.
Vision system checks containers Custom-configurable, the Conveyor Vision Inspection machine-vision system classifies plastic containers as they exit the blowmolder at speeds of 150-300 cpm on a flat-top conveyer. It identifies container defects for base, sidewall, and inside finish; contaminations, inclusions, holes, and thin spots; and sidewall checks for impurities, deformities, and dark-colored defects. Other features include a graphical user interface, an RS-232 port, alarm outputs, and remote-control diagnostics via a modem. AGR International Inc.,POB 149, Butler, PA 16003; (724) 482-2163; Fax: (724) 482-2767.
Frame grabbers suit high pixel rates The I-series has been expanded with the I-60, I-25 MV, I-50 MV, and I-60 MV frame-grabber boards. The I-60 accepts nonstandard video inputs to 60-MHz pixel input rates including 1024 x 1024 inputs. The I-25 MV, I-50 MV, and I-60 MV boards handle pixels rates to 25 MHz, 50 MHz, and 60 MHz, respectively. All models feature various machine-vision and camera I/Os, are software configurable, and provide ±1.0-ns pixel jitter. Other common features include a signal-to-noise ratio of 59 dB, 10-bit analog-to-digital conversion, 120-Mbytes/s sustained transfers to system memory, and auto-SYNC software support. Foresight Imaging,220 Mill Rd., Chelmsford, MA 01824; (978) 256-4624; Fax: (978) 250-9155.
Software libraries boost vision The FastSeries of C-callable vision libraries comprise four suites of application-specific image-analysis functions. Based on geometric pattern matching, FastOCR software can read marked characters quickly, perform image binarization and character reads on varying fonts, and decode patterns regardless of position, angle, or size. FastAlign performs alignment at up to 200 patterns/s at 1/64 of pixel accuracy and is invariant to lighting, noise, and blurring. The FastBars barcode-recognition engines can find, identify, read, and decode 1-D and 2-D barcodes at up to 1200 decodes/min. Aimed at linescan cameras for continuous web inspection, FastWeb facilitates multitap camera alignment, blob tracking, and defect measurements across frame boundaries, cluster analysis, and graphical overlay with waterfall displays. Coreco Inc.,6969 Trans-Canada Highway, Suite 142, St Laurent, Quebec, Canada, H4T 1V8; (514) 331-1301; Fax: (514) 333-1388.
Frame grabbers handle multiple cameras The MV Series of frame-grabber boards can acquire one to three images simultaneously from three to nine monochrome or color cameras. The DT3131 single board provides one active and three multiplexed inputs for up to three RS-170/CCIR, NTSC/PAL cameras or one S-video and two RS-170/CCIR, NTSC/ PAL cameras. The DT3132 double board includes two active or six multiplexed inputs for up to six RS-170/CCIR, NTSC/ PAL cameras or two S-video and four RS-170/CCIR, NTSC/PAL cameras. The DT3133 triple board features three active or nine multiplexed inputs for up to nine RS-170.NTSC/PAL cameras or three S-Video and six RS-170/CCIR, NTSC/PAL cameras. Data Translation,100 Locke Dr., Marlboro, MA 01752; (508) 481-3700; Fax: (508) 481-8620.
Lens suits high contrast The 1/3-in.-format COIF283LD lens provides a focal length of 8.3 mm and is ƒ/2.0. Its grid distortion is less than 0.2%, and it has a focal length of 15 cm. The lens focuses on machine-vision applications that are space limited. Computer Optics Inc.,120 Derry Road, Hudson, NH 03061; (603) 889-2116; Fax: (603) 889-2393.
Frame grabber does PCI The M-Vision 510 monochrome frame grabber captures composite RS-170/CCIR video and noninterlaced video from progressive-scan cameras. It is PCI 2.1 compliant and transfers data at 132 Mbytes/s over the PCI bus to system memory or to a VGA card. Other features include less than 3-ns jitter and a VESA standard video interface port. MuTech Corp.,85 Rangeway Rd., Billerica, MA 01862; (978) 663-2400; Fax: (978) 663-3444.
Frame grabber controls graphics The Orion frame-grabber board supports color/monochrome video-capture formats and integrates a display section based on the company's MGA G400 graphics controller. It can handle composite S-Video, RGB NTSC/PAL, or composite RS-170/CCIR video capture via trigger and eight video inputs. Supporting dual independent displays, the board can run at 1024 x 768 pixels showing the user interface and video window and can run a secondary display at NTSC/PAL resolutions in full screen. Other key features include VGA displays up to 1920 x 1200 pixels, nondestructive overlay of graphics, separate and independent composite Y/C or RGB NTSC/PAL video output, 32-Mbyte graphics and video buffer, and AGP 1X, 2X, and 4X modes. Software support covers Windows 98/NT 4.0/2000 and the Matrox Imaging Library. Matrox Imaging,1055 St Regis Blvd., Dorval, Quebec, Canada H9P 2T4; (514) 685-2630; Fax: (514) 822-6273.