CPCI-BASED frame grabbers DUEL PCI, VME TYPES
As a superset of the desktop Peripheral Component Interconnect (PCI) bus standard but with a different physical form factor, the newest specification for PCI-based industrial computers--CompactPCI--uses the Eurocard form factor popularized by the VME bus. Defined
Mar 1st, 1999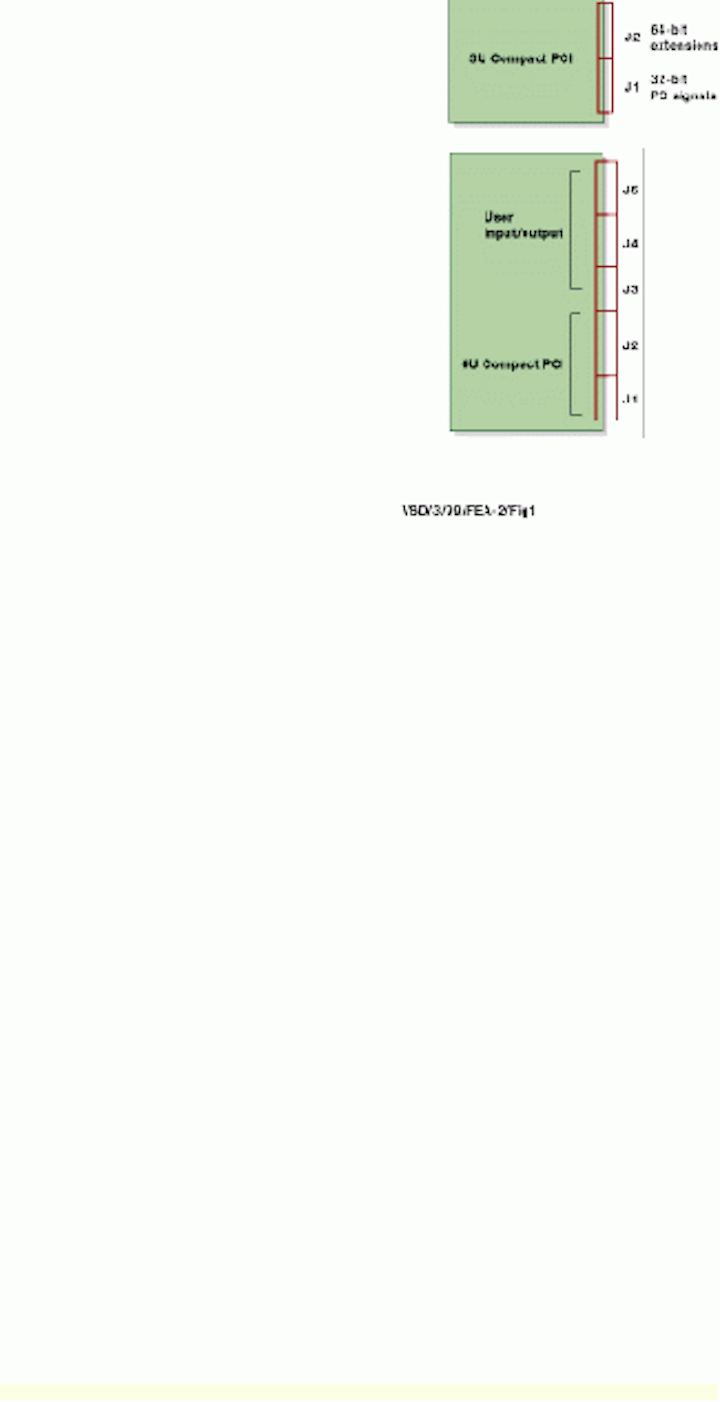 CPCI-BASED frame grabbers DUEL PCI, VME TYPES
By Andrew Wilson, Editor at Large
As a superset of the desktop Peripheral Component Interconnect (PCI) bus standard but with a different physical form factor, the newest specification for PCI-based industrial computers--CompactPCI--uses the Eurocard form factor popularized by the VME bus. Defined
for both 3U and 6U card sizes, CompactPCI frame grabbers are benefiting developers who need a rugged form factor for harsh application environments and those who want to benefit from low-cost PCI technology, software-development tools, and PC-based applications.
Developed by the PCI Industrial Computer Manufacturers Group (PICMG; Wakefield, MA), CompactPCI is a bus specification for PCI-based industrial computers that combines low-cost PCI silicon and software with the rugged Eurocard packaging of the VME bus. "Compared to desktop PCI, CompactPCI supports twice as many PCI slots [eight versus four] and offers a packaging scheme better suited for use in industrial applications," says Cosma Pabouctsidis, formerly director of marketing and technology at Gespac (Mesa, AZ).
Designed for front loading and removal from a card cage, CompactPCI cards are firmly held in position by their connector, card guides on both sides, a faceplate that screws into the card cage, and a locking injector/ejector handle. "And," says Pabouctsidis, "the pin-and-socket connector of the card is more reliable than the edge connector of standard PCI cards."
Form factors
Both 3U and 6U form factors are prominently featured in the CompactPCI specification. In the 3U configuration, the 220-pin connector used is divided into two sections: an upper, keyed 110-pin connector and a lower, unkeyed 110-pin connector (see Fig. 1). Whereas the lower pins are used for the 32-bit PCI signals, the upper 110 pins contain 64-bit extension lines and signals required by the CPU system slot.
"Because many I/O cards such as frame grabbers only perform 32-bit transfers, they can be implemented with just the lower-cost, lower 110-pin connector," says Joseph Pavlat, president of PICMG. Indeed, most of the CompactPCI frame grabbers available from companies such as Gespac, PEP Modular Computers (Pittsburgh, PA), Imagenation (Beaverton, OR), and Integral Technologies (Indianapolis, IN) are all implemented in the 3U form factor. And, many of these 3U versions are ported from existing PCI-based designs and offer similar functions to their PCI-based counterparts (see Fig. 2).
This month Matrox Electronic Systems (Dorval, Quebec, Canada) will enter the market with a CompactPCI version of its Meteor-II PCI-based frame grabber. Like its PCI counterpart, the CompactPCI Meteor-II can acquire images from standard analog composite or Y/C NTSC/PAL and composite RS-170/CCIR video cameras and videocassette recorders. Software support will include the Matrox Imaging Library and a C-based library also available with an ActiveX interface. Both software packages in clude functions for image processing (such as point-to-point, statistics, filtering, morphology, geometric transforms, and color-space conversion), pattern matching, blob analysis, gauging, optical character recognition, and image acquisition, transfer, and display.
Imaging boards
To add more functionality to their boards, image-acquisition vendors National Instruments (Austin, TX) and Cognex Corp. (Natick, MA) have chosen the larger real-estate area afforded by the 6U form factor. Like vendors offering frame grabbers on the 3U format, both designs are versions of products currently offered by these companies on PCI-based formats.
Although the Cog nex MVS-8200 board is supplied as a 6U double-height CPCI board, it is software-compatible with the company`s MVS-8000 range of boards, allowing systems originally developed using the Cognex Vision Language interface, for example, on a PCI board to be ported to the MVS-8200. Similarly, using the National Instruments IMAQ configuration utility supplied with the company`s PCI and CPCI boards, developers can set camera types, regions of interest, aspect ratios, and filters.
Because CompactPCI boards contain as many as eight slots--usually a CPU system slot and up to seven expansion slots--each of the seven expansion slots can serve as bus masters. "Many applications, however, require more than eight slots," says PCIMG`s Pavlat. "Large systems that use 3U boards can be constructed in a number of ways by using a bridge chip to provide a second Compact PCI bus through the J4/J5 I/O connectors," he adds. In this way the J1/J2 system bus can be used to drive a second story of 3U cards. In fact, Ziatech Corp. (San Luis, Obispo, CA) builds a Pentium system using this approach.
"Another way to build complex 6U systems is to build the processor as a two-card sandwich,with each card having a bridge chip to drive the J1/J2 primary CompactPCI bus," says Pavlat. This approach, used by Motorola Computer Group (Tempe, AZ) in a two-card, multi-processor Pentium II system, allows systems with 14 6U-expansion slots to be built with the processor in the middle of the expansion slots.
Another popular bridging method involves the insertion of a bridge card every eight slots to drive another eight slots. This allows developers to build large 6U systems. PixStream (Waterloo, Ontario, Canada) makes a number of bridge cards and matching backplanes that support this method of bridging.
Evolving standards
Similar to the VME bus, the CompactPCI standard will evolve over time. In September 1998, PICMG approved three specifications that define possible uses for I/O pins J2, J3, J4, and J5 when mapping to existing ANSI, IEEE, and VITA standards. While PICMG 2.2 allows developers to build hybrid CompactPCI/ VME64x systems, PICMG 2.3 maps the PMC I/O pins to the CompactPCI I/O pins through the backplane. For IP modules, PICMG 2.4 provides a similar specification.
"These three specifications allow interoperability with hardware that conforms to existing standards," says Richard Somes, technical director of OEM business at Compaq Computer (Houston, TX) and PICMG vice president for technology. "One of the most important factors in the success of any emerging technology is the existence of applications and options. With these specifications in place, VME/VME64/VME64x, PMC, and IP options become part of the tool box, with which CompactPCI systems can be built," he adds.
In systems that need to be operated continuously, hot-swap capability is becoming increasingly important. To address this issue, PICMG`s PICMG 2.1 CompactPCI Hot Swap Specification details how to implement the "hot swapping" of components in CompactPCI systems. This specification defines pin sequencing and the software architecture required to support live insertion and extraction of boards in a running CompactPCI system. PICMG`s field test of hot-swap infrastructure software for Microsoft Windows NT 4.0 and 5.0 (now Windows 2000) initiated in Nov. 1998 uses software developed by Pigeon Point Systems under contract to PICMG. "The requirement for hot-swappability stems from the telecommunications world and a desire to use CPCI devices in telephone switches," says Pierantonio Boriero, Matrox product line manager.
But hot-swap is not as much of an issue for frame grabbers and vision systems. "Hot-swap doesn`t have the same value-added for vision that it does for telecommunications," says Boriero, "In vision applications, the frame grabber is part of an entire imaging subsystem that starts with lighting and cameras. The frame grabber is not necessarily the weakest link in this chain. You would have to implement redundancy for all of these components to avoid or minimize system interruption. And this may prove too costly or not feasible technically, depending on the system and process where vision is implemented," he declares.
Mezzanine standards
To add imaging functions to their systems, OEMs may wish to consider using PMC mezzanine cards in their systems. Designed to be stacked on either CompactPCI or VME CPU boards, different mezzanine modules can be combined on single carriers, allowing systems developers to build tailored systems. Because developers can profit from the moderate cost and individual configuration of such systems, mezzanine concepts such as M-modules, PMC-Modules, and Industry Packs are becoming popular in industrial computing.
"If you need high-performance and/or intelligent I/O, then PMC modules are a better choice [than IPs or M-modules], although they are more expensive as both the PCB surface is larger and the PCI interface is more complex," says Luc Perneel, technical director at RTUSI (Brussels, Belgium). "However, as PCI becomes more widespread, PCI components will become cheaper and production costs will decrease," he adds. Market research from Venture Development Corp. (Natick, MA) confirms this trend. In 1997, single-board computers containing a mezzanine board reached a new high at 73.5% of shipments.
Already, frame grabbers, display controllers, and image processors--even MPEG-2 encoders--are becoming available in PMC form factors (see Fig. 3). In the past few months, four vendors have entered this market. They include VisiCom (San Diego, CA), Raster Graphics (Redmond, OR), General Standards (Huntsville, AL), and Aitech Defense Systems (Santa Clara, CA).
For its part, Visicom`s VigraVision-PMC single-width module integrates video acquisition, real-time processing, and display. Image-acquisition functions include color/monochrome, analog/digital, and frame scan/line scan to 40 MHz. Display resolutions to 1600 ¥ 1200 pixels at 85 Hz eliminate the need for a separate display board. In addition, the module provides video output in NTSC/PAL and S-Video formats, eliminating the need for an external scan converter. "On-board FPGAs allow the implementation of image-processing algorithms with more than 25 times the performance and at cost reductions up to 75% compared to traditional solutions," claims Eli Warsawski, VisiCom vice president and general manager of imaging products.
Like VisiCom, Raster Graphics offers a PMC board for image capture and display. Its RG-101 PMC graphics board can digitize NTSC/ PAL/SECAM and S-video input signals and display the image in a window on a VGA display. Because format selection for video imput and output is independent, video input can be processed in one format and displayed in another, allowing the board to be used as an NTSC-to-PAL scan converter, or vice-versa.
General Standards and Aitech also offer PMCboards. General Standards` CPCI board interfaces to cameras such as the DL series of linescan cameras from Dalsa (Waterloo, Ontario, Canada). Aitech`s M501 board is a real-time MPEG-2 encoding engine based on an MPEG-2 encoding integrated circuit.
Because its rugged form factor allows the configuration of multislot systems, CompactPCI boards are less expensive than VME versions and are supported by more operating systems and CPUs. Better still, the software commonality between CPCI- and PCI-based systems makes CompactPCI-based imaging systems an improved application choice, especially in factory-floor environments that require tolerances of shock, vibration, and electrically induced noise.
FIGURE 1. Form factors supported by the CompactPCI specification include 3U and 6U board formats. In the 3U configuration, the 220-pin connector is divided into two sections: an upper keyed 110-pin connector and a lower unkeyed 110-pin connector. Whereas the lower pins are used for 32-bit PCI signals, the upper 110 pins contain 64-bit extension lines and signals required by the CPU`s system slot. The 6U boards can have from one to three additional connectors above the 220-pin CompactPCI bus connector for increased input/output capability. These connectors add a total of 315 pins for I/O use or for routing special-purpose sub-buses on the backplane.
FIGURE 2. Many CompactPCI frame grabbers are 3U versions ported from existing PCI-based designs. These include the CP336 frame grabber from PEP Modular Computers (far left) and the PX610 from Imagenation.
FIGURE 3. To add imaging to their systems, OEMs can use PMC mezzanine cards that can be stacked on either CompactPCI or VME CPU boards. The PMC cards from Visicom (top), Raster Graphics (bottom), and Aitech Defense Systems (middle) offer image processing, display, and control, and MPEG-2 compression.