Wilson's Websites
Wilson's Websites brings you the latest information on what's new on the web.
May 1st, 2006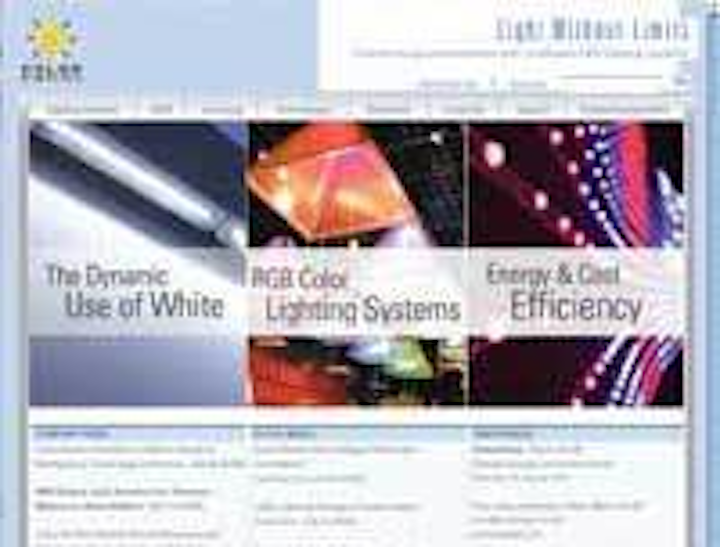 Wilson's Websites brings you the latest information on what's new on the web. To accomplish this, we provide links to tutorial information, hardware or software product developments, product database information, technical articles, associations, and on-line magazines. If you or your company would like to be considered for Wilson's Websites, please contact Andy Wilson at andyw@pennwell.com.
Very colorful
www.colorkinetics.com
LED lighting, including custom-designed ICs, subsystems such as digital light engines, lamps, power data modules, power/data supplies, and controllers, are featured on the Color Kinetics site. Also included are a number of tutorials, white papers application notes, and product data sheets.
High-speed imaging
www.2020hindsight.com
If you are looking for a high-speed imaging system, take a look at the Monitoring Technology Corp. Web site. There you will find information about the company's 20/20 Hindsight system and how it has been used in a number of applications in the packaging industry.
OEM components
www.aventools.com
Aven offers a number of OEM components for the developer of machine-vision systems. These include CCD cameras, fiberoptic illumination systems, frame grabbers, lenses, and monitors.
Vision in action
www.sensopart.com
Created in 1994, German-based SensoPart supplies industrial sensors to developers of industrial automation systems. In addition to offering data on the company's photoelectric, color, capacitive, and inductive sensors, the site also features a number of application stories on machine-vision systems.
Bleeding edge
www.infotonics.org
Infotonics is an R&D center that develops photonics systems that include silicon-based UV lighting, terahertz imaging, and diagnostic and sensing systems for medical applications.
Light down under
www.lednium.com
Australian-based Lednium claims to have produced the world's first three-dimensional LED die platform. Unfortunately, the company's difficult-to-read Web site does not do justice to the company's products, although you can download datasheets that fully describe the performance of the LED modules.
Value engineering
www.the-v-e-a.com
Established in July 1987, The Value Engineering Alliance (VEA) specializes in the conceptualization, development, marketing, selling, and implementation of machine-vision systems. Its Web site describes a number of systems the VEA has developed, including a PC-based system for counting packaging inserts.
Advanced vision
www.avtechuk.com
PCI-based frame grabbers and image processors are featured on the Advanced Vision Technology site. The company also offers design services to customers wishing to develop their own custom OC-based imaging products.
Calibrate that
www.imtag.ch
Looking to calibrate your machine-vision or image-processing system? Look no further than the Web site of IMT for a range of optical calibration plates, reticules, and graticules.
By any other
www.qioptiqimaging.com Thales Optem has been renamed The Qioptiq Group, part of the UK's Candover Investments. On the company's new Web site there are descriptions of Qioptiq's cam-based zoom, telecentric, and IR lenses.
Systems integration
www.cincinnatiautomation.com
Cincinnati Automation builds machine-vision systems, automated inspection machines, robotics, and laser marking systems. Short descriptions and photographs accompany a large application section, showing systems the company has developed.
Web inspection
www.webinspection.com
Webview has recently developed an $8000 linescan surface-inspection system, the Web-I-2K, that is a self-contained vision system. Only a computer with a USB connection is needed for setup.