Frame-grabber options widen as digital networks take hold
Pushed by a variety of analog and digital cameras, frame-grabber vendors are broadening their offerings.
Mar 1st, 2004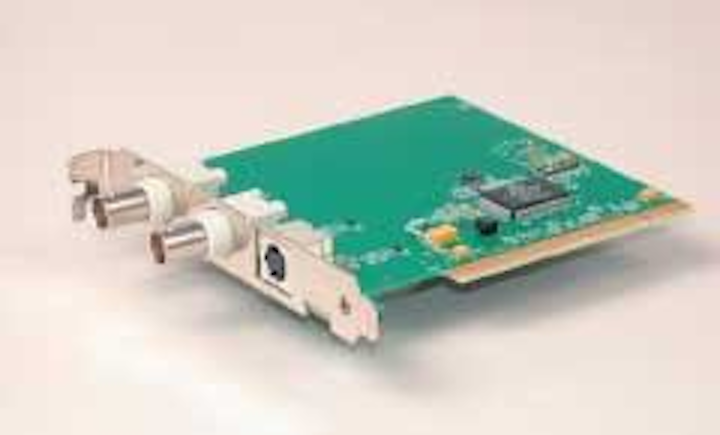 Pushed by a variety of analog and digital cameras, frame-grabber vendors are broadening their offerings.
By Andrew Wilson, Editor
The number of new frame-grabber products introduced within the last two years has been rather meager, in part because of the recession in the electronics industry. Rather than introduce new designs, many manufacturers have been tailoring their existing products for different camera interfaces or bus structures. Threatened by the introduction of smart cameras, networks such as Gigabit Ethernet (GigE), and I/O buses such as the emerging PCI Express, many vendors are taking a wait-and-see attitude to new product development (see p. 11). Certainly, the emergence of smart cameras has impacted the add-in board frame-grabber market, but it remains to be seen how the emergence of GigE and PCI Express will change this model.
There are many reasons why making such predictions is difficult. The main one, however, is the convergence of imaging with computer-based technology across a variety of markets. For disparate applications that include teleradiology, remote sensing, video surveillance, and machine vision, vendors of image capture, processing, display, networking, and bus architectures now offer systems that encompass more than 100 related "standards" and proprietary interfaces. This standards segmentation by market includes technologies that encompass, for example, Ethernet networks for nondeterministic factory-monitoring applications, lossless JPEG compression in Gigabit Ethernet teleradiology applications, and Camera Link cameras and frame grabbers for machine-vision applications.
Legacy Standards
Even in the machine-vision market, standards segmentation exists, making the decision on which features to incorporate in a frame grabber application-specific. Because of this, board vendors now offer a number of frame grabbers, ranging in cost from a few hundred dollars to thousands of dollars, that meet the needs of applications from microscopy to high-speed machine vision.
Legacy standards such as RS-170 and CCIR continue to dominate many low-cost analog systems. These standards, developed primarily for analog broadcast television, were the first to be adopted by the frame-grabber-board vendors more than 20 years ago. Today, boards such as the DT3120 from Data Translation cost just $199 and allow standard monochrome (RS-170), composite color (NTSC and PAL), and S-video color images to be acquired from a single camera (see Fig. 1). With no on-board memory, processor, or display controller, the board acts as a PCI bus master that uses scatter/gather DMA to transfer images to the host PCs memory.
When used with a PC on-board graphics card, such boards allow developers to digitize broadcast-quality images at very low cost. Although these boards are useful in many applications, they cannot satisfy the demands of every system. To meet more sophisticated applications, vendors have enhanced their frame-grabber offerings with options that include on-board display capability, pipelined and/or processor-based architectures, multiple video inputs and triggers, and sophisticated I/O capability.
By incorporating a VGA controller, for example, the Bandit-II series from Coreco Imaging eliminates the need for multiple image capture and display boards in PC-based systems (see Fig. 2). Available in AGP and half-size PCI form factors, the Bandit-II CV acquisition circuitry allows video capture from up to six color or monochrome composite video or two S-video cameras. Coreco also offers versions of the board with monochrome, RGB, and LVDS inputs.
Nonstandard Signals
In many machine-vision systems, interlaced analog video signals cannot be used because of the speed of the object passing the camera. In these cases, systems integrators may need ways to synchronize the timing of the transport system with the system and control other peripherals such as strobe lighting. In these applications, nonstandard single or multitap analog progressive scanning is used, and features such as synchronous timing, asynchronous reset, shutter, and strobe control are mandatory.
Because such cameras do not use broadcast-standard interfaces, the frame-grabber vendor must build specialized circuitry to interface to them. The Euresys Domino series supports functions such as asynchronous reset, exposure, and strobe control.
Compatible with standard and nonstandard analog cameras, the Domino Iota is an entry-level frame grabber for a single-tap monochrome analog camera, while the Domino Alpha 2 provides acquisition from two single-tap or one dual-tap analog cameras. The Euresys Domino Gamma board provides acquisition from three such cameras.
While analog cameras and frame grabbers continue to provide PC-based solutions in machine-vision systems, a move toward providing digital interfaces is also underway. Like their analog counterparts, these digital systems leverage and/or modify existing bus interfaces, networks, and integrated circuits. To provide these digital interfaces, camera vendors have adopted a number of interfaces, including nondeterministic serial buses such as FireWire and USB.
FireWire, a serial bus interface standard introduced in 1995, transfers data between computer and peripherals at 100, 200, or 400 Mbits/s. Like FireWire, USB 2.0 is an external peripheral interface standard that uses biserial transmission to achieve speeds of 480 Mbits/s. FireWire and USB have found applications in videoteleconferencing and other areas that do not demand complex triggering and I/O capabilities; they have found limited use in machine-vision applications.
Frame-grabber vendors, eager to support such emerging standards, do, however, offer products to allow both FireWire and USB cameras to be connected to host PCs that do not feature on-board support for these serial interconnects. The FireBoard 400-OHCI Host Adapter from Unibrain, for example, is suited to less-demanding, more mainstream applications where control is less of an issue and where compatibility with Microsoft Direct Show is desired. Providing three fully compliant cable ports at 100/200/400 Mbits/s, the board also provides a PCI bus master function for supporting DMA operations.
For point-to-point digital applications, a number of vendors choose multiple low-voltage differential signal (LVDS) lines with which to couple the output of cameras and frame grabbers. Despite their popularity, such interfaces require a large number of nonstandard cables and connectors.
To overcome these imitations, JAI Pulnix formed a consortium of camera and frame-grabber vendors to develop the Camera Link standard. Now more than four years old, the Camera Link standard offers a high-speed point-to-point interface especially targeted at digital machine-vision applications. To date, more than 80 companies have introduced Camera Link-compatible products (see Vision Systems Design, January 2003, p. S4).
Supporting Base, Medium, and Full configurations, the Camera Link standard offers systems integrators a way to reduce the cabling and large-size connectors of LVDS implementations. To receive video data and receive/transmit synchronization signals and serial communication data between the camera and the frame grabber, a 26-pin high-density micro Delta ribbon (MDR) connector is used. In the Base configuration, one transmitter/receiver pair transmits up to 24 bits of data. In the Medium configuration, two transmitter/receiver pairs can transmit up to 48 bits of data, while the Full configuration uses another set of transmitter/receivers to transmit a theoretical 72 bits of video data.
In each configuration, four LVDS pairs are reserved for general camera control, and two LVDS pairs are allocated for asynchronous serial communication to and from the camera and frame grabber. In implementing the Camera Link interface, frame-grabber vendors offer PCI-based boards that support Base, dual Base, Medium, and Full configurations. With a single 26-pin MDR connector that supports cameras with the Base configuration, the PIXCI CL1 board from Epix accepts data from a Camera Link camera while providing exposure, reset, and serial control (see Fig. 3). Acting as a PCI bus master, the board can transfer video data to the PCI bus at up to 100 Mbytes/s.
Vendors, such as Bitflow, have incorporated two MDR connectors on their boards and support circuitry that allows the boards to be used in multiple configurations. The Bitflow R64-CL, for example, features a single or dual Camera Link camera interface configuration. In the single-camera configuration, the R64-CL can support a Base, Medium, or Full Camera Link camera. In its dual-camera configuration, the board supports two identical Base Camera Link cameras.
Switched Packets
Although point-to-point interfaces such as Camera Link overcome the nondeterministic nature of buses such as USB 2.0 and FireWire, other higher-speed switched-packet architectures such as Gigabit Ethernet and the forthcoming PCI Express look as if they will again attempt to challenge the role of future digital interfaces. Already, Pleora Technologies and GigaLinx have announced products based on Gigabit Ethernet. In a partnership with Dalsa, Pleora will offer GigE products that allow Dalsa cameras to exchange imaging and control data with PCs over GigE links.
Offered under Dalsa's NetLink brand, these modules enable remote access and control of Camera Link-compliant cameras using standard LAN equipment without using a frame grabber. According to Pleora, NetLink supports up to 1-Gbit/s throughput-sufficient for two 8-bit camera taps at 40 MHz. NetLink Pro also offers multicasting that enable developers to send images from one or multiple cameras to multiple PCs using standard equipment.
GigaLinx offers a Camera Link-to-Gigabit Ethernet converter, the vAtom Argon, that can support dual Base or single Medium Camera Link configurations (see Vision Systems Design, Jan. 2004, p. 7). With four 10/100/ 1000 Ethernet channels, the board can remotely link cameras up to 100 m from a host PC and transfer a sustained bandwidth of up to 512 Mbytes/s over the Ethernet connection.
Boarding the Express
While most of today's Camera Link add-in boards are based on PCI or PCI-X based parallel bus models, it is certain that vendors will adapt to Intel's latest serial-based model-PCI Express. As a way to create a simple and fast link between ICs or boards inside computers, PCI Express will allow data to be exchanged at up to 8 Gbits/s.
Expected to become the successor to PCI and PCI-X, the standard will use two differentially signaled half-duplex line pairs and will encode both clock and data in a single stream using serializer/deserializer technology. Backward compatible with PCI technology, PCI Express silicon is currently offered by a number of vendors including PLDApplications, which has started the development of a PCI Express IP Core and is slated to introduce prototyping and data-acquisition boards soon.
Although board-level products based on the PCI Express architecture have yet to reach volume proportions, several companies have announced interest in the interface. In the add-in graphics-board market, where PCI Express is expected to replace the AGP standard, Matrox Graphics has signed an agreement to license PCI Express nVS verification tools from nSys for use in its chip-design efforts.
Whether the company's imaging group will use the same design in PCI-based frame grabbers remains to be seen. Pierantonio Boriero, product line manager, says that Matrox Imaging is definitely planning to add support for PCI Express to its product line, and the company will do so "using the appropriate internally developed or third-party technologies."
While PCI Express will replace PCI, it may also be offered as a camera-to-board interface. Whether this emerges will depend, somewhat, on the acceptance of such switched architectures as Gigabit Ethernet and the ability of vendors to support multiple digital standards.
---
Newer networks necessitate alternate system designs
While USB 2.0 and FireWire will compete with each other in the low end of machine vision—propelled respectively by the PC industry and consumer electronics—neither can reach very far without using multiple hubs, thus increasing cost and decreasing reliability. USB hubs further complicate logistics by requiring outside power. GigE, on the other hand, will be a very important interconnect for machine-vision applications. It will easily and inexpensively bridge the distance from camera to image-processing system and will take advantage of commodity networking infrastructure to support multiple camera setups.
Its biggest problem is that it requires a very significant CPU support to sustain bandwidth-more than 30%-50% of a 2-GHz CPU is consumed to maintain an 800-Mbit/s data rate. At present, however, chip providers to the telecom industry are working on TCP/IP offload engines (TOE) that can sort and bundle packets, reducing the processing burden on the CPU. Integrating TOE in the Ethernet Media Access Control will reduce that burden and will make GigE more practical.
In the future, falling prices for computers and DSPs, combined with the increasing availability of high-resolution image sensors, will accelerate the trend to smart cameras that are essentially small embedded computer systems. This embedded intelligence will make cameras more adaptable to external triggers and conditions, allowing local image preprocessing and compression.
The natural and economic choice of interconnects for smart cameras will be one of the standard computer interconnects, not Camera Link. PCI Express will be one such natural choice when it will be completed and deployed, as will the InfiniBand standard that is currently deployed with blade servers. Both interconnects are scalable beyond 3 Gbytes/s and will be a good choice when technologies mature.
There is another inexpensive embedded-computer-systems interconnect that combines 2.5-Gbit/s high-speed serial communication with PCI protocol—StarFabric from StarGen. Because of the PCI compatibility, StarFabric can be seen as a natural extension of PCI-based computer systems. It uses inexpensive copper and fiber cables from 15 to 400 m to seamlessly link PCI-based systems together.
Joseph Sgro, CEO
Alacron
Nashua, NH, USA
www.alacron.com
Company Info
Alacron, Nashua, NH, USA www.alacron.com
Bitflow, Woburn, MA, USA www.bitflow.com
Coreco Imaging, St. Laurent, QC, Canada www.imaging.com
Dalsa , Waterloo, ON, Canada www.dalsa.com
Data Translation, Marlboro, MA, USA www.datx.com
Epix, Buffalo Grove, IL, USA www.epixinc.com
Euresys, Angleur, Belgium www.euresys.com
GigaLinx, Ramat Gan, Israel www.gigalinx.net
JAI Pulnix, Sunnyvale, CA, USA www.pulnix.com
Matrox, QC, Canada www.matrox.com
NSys, Fremont, CA, USA www.nsysinc.com
PLDApplications, Aix-en-Provence www.plda.com
Pleora Technologies, Kanata, ON, Canada www.pleora.com
Unibrain, San Ramon, CA, USA www.unibrain.com