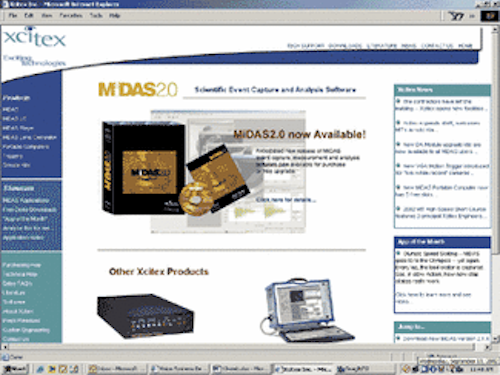 Motion analysis of fast-moving objects demands the use of high-speed digital cameras. By recording objects that are moving too quickly for the eye to see or for conventional video cameras to capture, these high-speed cameras provide valuable information to designers of automotive systems, ammunition ordinance, and military weapons. This month, we look at the latest developments in high-speed-video and image-processing systems.
HIGH-SPEED SOFTWARE
www.norpix.com
NorPix (Montreal, QC, Canada) provides image-processing software and live uncompressed video-recording systems for industrial and scientific applications. Its Web site describes StreamPix—PC-based software that allows developers to grab live uncompressed or compressed video directly from FireWire, high-speed, or high-resolution digital cameras to a hard disk drive or RAM. From this Web site, you can download a demo version of the software, as well as check supported frame grabbers and cameras.
DIGITAL IMAGING
www.redlake.com
Redlake MASD (San Diego, CA), a wholly owned subsidiary of Roper Industries, offers a range of digital imaging products, including those for high-speed imaging. On its Web site, you will find descriptions of the company's Motion Pro, Motion Xtra, and Motion Scope systems, as well as a range of case studies that describe applications in failure analysis, blood flow analysis, and ophthalmology.
SPEED AND RESOLUTION
www.hsi.ca
High Speed Imaging (Mississauga, Ont., Canada) offers imaging systems that combine high-speed video or high-resolution camera technology with data acquisition and other event information, such as GPS time correlation and distance measurement. This Web site highlights a number of third-party products the company offers, as well as applications in biomechanics, genetic research, and shock and vibration testing.
MOTION ANALYSIS
www.xcitex.com
Each month on its Web site, Xcitex (Cambridge, MA) posts an interesting application of high-speed image capture. This month, the feature explains how Mark Link, a cardiologist at New England Medical Center, has determined that heart concussion is caused by disruption of electrical activity of the heart muscle between beats. Dr. Link used Xcitex's MiDAS event-capture and measurement-analysis software as one of his research tools.
FAST VISION
www.fast-vision.com
High-speed stand-alone cameras and camera subsystems that meet applications in machine vision, OCR, and pattern recognition are presented on the FastVision (Nashua, NH) Web site. To meet demands, the company has introduced several camera products, including the FastCamera40—a megapixel digital camera system based on a CMOS imager with an electronic shutter.
EVENT CAPTURE
www.cordin.com
The Web site of Cordin Co. (Salt Lake City, UT), a manufacturer of ultrahigh-speed imaging systems, features high-speed rotating-mirror and rotating-drum mechanical cameras; intensified gated CCD and rotating-mirror digital cameras; and image-converter streak cameras. This site also provides links to show how the cameras have been used in applications such as materials characterization and physics and explosives research.
Other interesting high-speed-vision Web sites
www.cordin.com
techimaging.com
www.digitalwestimaging.com/sys-tmpl/door/
www.optikon.ca/hispeed.htm
www.nacinc.com
www.roperscientific.com
www.visionbase.co.uk
www.siliconimaging.com
www.drs.com
www.till-photonics.de