New Products
Cameras run FireWire; Camera fits anywhere; Cameras shrink size; MORE...
Jul 1st, 2003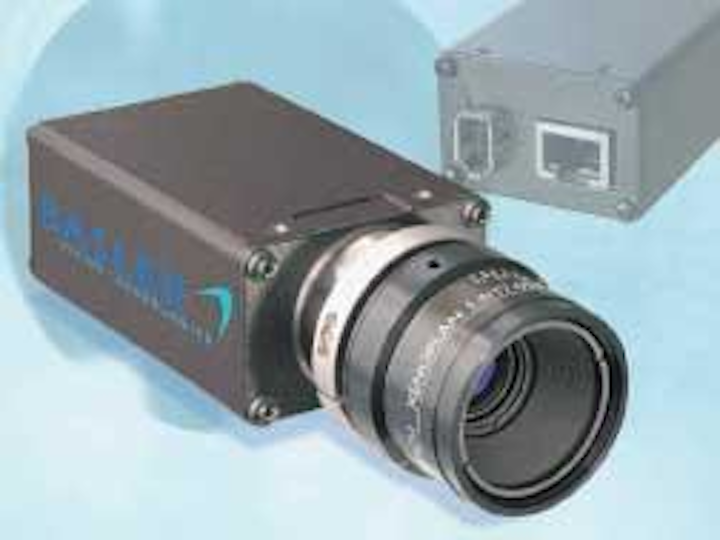 Cameras run FireWire
A600f Series of area-scan CMOS-sensor-based cameras come with a full-frame shutter, an IEEE 1394 (FireWire) interface, and a small (29 x 44 x 67.3 mm) housing. These cameras can operate at up to 100 frames/s at 656 x 491-pixel resolution. Area-of-interest feature allows operation with higher frame rates at lower resolutions, and user-definable I/O ports add flexibility. Key features include gamma-correction, frame counter, time stamps, and 20-bit dynamic range.
Basler AG
Ahrensburg, Germany
www.basler-vc.com
Camera fits anywhere
Scorpion camera provides an IEEE-1394 (FireWire) interface. It features a 2/3-in. CMOS sensor, 1280 x 960-pixel resolution, 30-frame/s rate, and general-purpose I/O. Measuring 50 x 50 x 40 mm, it is adaptable to a range of applications. Development kit includes cable and image-acquisition and camera-control API.
Point Grey Research
Vancouver, BC, Canada
www.ptgrey.com/
Cameras shrink size
IK-53N and IK-52N monochrome video cameras measure 29 sq mm and weigh 1.59 oz. They provide 768 x 494-pixel resolution for machine-vision applications. Identical in appearance and feature set, the IK-52N uses a 1/2-in. CCD, whereas the IK-53N features a 1/3-in. CCD. Minimum illumination is 0.5 lux for IK-53N and 0.4 lux for IK-52N. Both are compatible with most standard frame grabbers and a range of C-mount lenses.
Toshiba America Information Systems
Irvine, CA, USA
www.cameras.toshiba.com.
Line lights use LEDs
Line Light series offers a diffuse line of light within a working distance of 6 to 38 mm. Available in red (660 nm), infrared (880 nm), or white LEDs, the Line Lights are compatible with the company's power supplies, strobe controllers, and PC software. They contain 120 LEDs and can be mounted via M6 tapped holes to accommodate a variety of linescan cameras.
Edmund Industrial Optics Inc.
Barrington, NJ, USA
www.edmundoptics.com
Correlator speeds processing
OC-VGA12000 optical correlator can provide 120-frame/s image processing of live or still images of 640 × 480 pixels showing 256 gray scales. It is compatible with VGA input signals and can handle both 120 V–60 Hz and 230 V–50 Hz power supplies. Hardware settings are remotely controlled via an RS-232 link. Windows-based compatible interface performs image and filter display, hardware control, and filter generation.
INO
Sainte-Foy, QC, Canada
www.ino.ca
Camera sees ultraviolet
KP-F100UV digital camera focuses on ultraviolet (UV) sensitivity using a 1/2-in. progressive-scan, 1.45 million-pixel CCD. Its spectral response extends from 230 to 1000 nm with a 10-bit single-channel digital output and a frame-on-demand mode. Key features include electronic shutter, 4x accelerated frame-rate mode, internal or external sync modes, RS-232C remote control, and RS-644 or Camera Link output.
Hitachi Denshi America Ltd.
Woodbury, NY, USA
www.hdal.com
Camera sees fluorescence
Digital Eclipse DXM1200F color digital camera provides up to 12 million pixels with a CCD that produces images at a sensitivity up to 2.5 times higher than its predecessor for low-illumination applications such as fluorescence, DIC, and dark-field observations. Streaming data transfers run at 12 frames/s for a 640 × 512-pixel, live-image display. Zoom capabilities up to 800% are available for focusing on specimens. Software support includes ACT-1 software and the company's EclipseNet software to capture, view, and archive images.
Nikon Instruments Inc.
Melville, NY, USA
www.nikonusa.com
CMOS camera saves space
cmosSamBa HR-130 camera provides a readout rate of 40 MHz, a resolution of 1.3 Mpixels (1280 × 1024 pixels at 10 bits/pixel), and an acquisition of 30 frames/s. Image sensor is located in a miniature remote head (25 × 25 × 25 mm or approximately a 1-in. cube) that includes a C-mount attachment for use where space is limited. User-selectable 100 × 100 window enables acquisition of about 4000 images/s. On-board FPGA and optional DSP speed real-time processing.
Sensovation
Stockach, Germany
www.sensovation.com
Smart camera hosts Web site
VC 2048/E smart camera comes with built-in Ethernet/TCP/IP capabilities for progressive-scan applications. It can acquire full-frame 640 × 480-pixel images at 110 frames/s. The camera is equipped with communications protocols such as TCP/IP, UDP, FTP, SMTP, socket support, a Telnet server, and an HTTP server. Pre-emptive multitasking permits running several processes simultaneously, and parameters can be changed on-the-fly without affecting the inspection process. Camera can deliver a computational power of 1200 MIPS and contains 6 Mbytes of SDRAM image/data memory and 2 Mbytes of flash EPROM.
Vision Components GmbH
Hudson, NH, USA
www.vision-comp.com
Software adds features
IVL 2.0 Imaging and Vision Library incorporates image acquisition, processing, and analysis in one application-development tool. Compatible with the company's FlashBus, FlashPoint, and XPress image-capture cards, the library provides a conventional C-callable interface and is supplied as dynamic link libraries that simplify application development. Its feature set includes 40 new subroutines for optical character recognition, 16 new autofocus routines, new flat-field correction subroutine, and interlace offset correction.
Integral Technologies
Indianapolis, IN, USA
www.integraltech.com
Camera system captures motion
The monochrome and color i-SPEED camera system uses a custom CMOS sensor that provides 800 x 600-pixel resolution at 1000 frames/s and can record up to 3000 frames/s. Its Camera Display Unit comes with built-in measurement, storage, and editing capabilities and needs no PC. An internal PCMCIA slot handles compact flash storage, and four outputs accommodate continuous streaming live video. Trigger modes include record and burst record on command. Built-in electronic shutter operates to 5 µs.
Olympus Industrial
Nanuet, NY, USA
www.olympusindustrial.com
Frame grabber targets PCI bus
DT3120 frame grabber for the PCI bus provides single-channel image acquisition for monochrome, composite color, and S-video input sources; a PCI bus master and scatter/gather architecture for image data management; and 50- and 60-Hz timing formats. Software support includes DT Vision Foundry, Global Lab Image/2 application, and Windows device drivers.
Data Translation
Marlboro, MA, USA
www.datx.com