Wilson's Websites
CAMERA LINK EXTENSIONS; PCI-BASED SOLUTIONS; FROM THE NETHERLANDS; MORE...
Aug 1st, 2003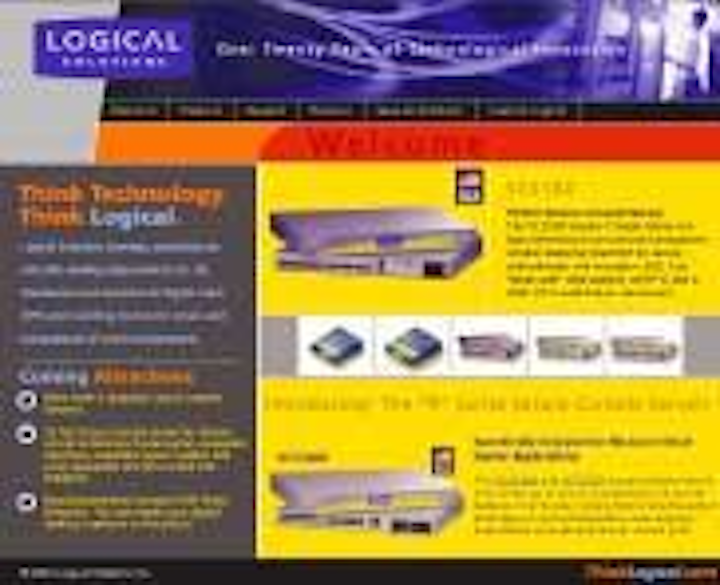 A major challenge for systems designers is integrating camera and frame-grabber combinations over long distances or where electromagnetic interference may be too high for digital data transmission. For example, a standard RS-644/LVDS output format can be transmitted over cables for only about 30 m. However, a number of different fiber-based products exist to help developers extend their camera-to-computer interfaces over longer distances. This month, we look at these products and how they are being used to extend interfacing in harsh environments.
CAMERA LINK EXTENSIONS
www.thinklogical.com
Although traditional copper cables are limited to 32.8-ft lengths for camera-to-host configurations, using the Camera Fiber-Link ..from Logical Solutions (Milford, CT, USA) permits the placement of a digital camera up to 1640 ft away from the controlling computer. On the company's Web site, you'll find a complete description of the product along with the company's line of secure console servers.
PCI-BASED SOLUTIONS
www.plda.com
Featuring two bidirectional optical GigaLink data paths, the Fiber Optic Gigabit Interface from PLDApplications (Aix-en-Provence, France) extends the ..company's PCI/PCI-X and Compact PCI-based XSys frame grabbers so that they can transmit image data over optical fibers at rates up to 2.5 Gbits/s. Data sheets on frame-grabber and fiber-interface products, application notes, and PCI Express Rev. 1.0 compliant cores are all featured on this Web site.
FROM THE NETHERLANDS
www.arvoo.com
Arvoo (Woerden, The Netherlands) offers a variety of machine-vision and image-processing products that are featured on its Web site. For long-distance digital video transmission over fiber, the company's opticlink products enable a maximum distance of 40 km between camera and frame grabber and are available for LVDS, Camera Link, and FireWire interfaces.
NO MORE EMI
www.edt.com
PCI, Compact PCI, PMC, and S-bus interface boards are all featured on the Web site of Engineering Design Team (Beaverton, OR, USA). Of particular interest is the PCI RCI system, a fiberoptic remote camera system for Camera Link, LVDS, and RS-422 cameras. During operation, the system provides a remote camera location of up to 10 km from the host, electrical isolation, and circuitry for the control/acquisition of up to 15 cameras in a single half-length PCI card.
CAMERA LINK CONNECTIONS
www.han-vision.com
The Web site of HanVision (Daejeon, Republic of Korea) covers the company's line of linear- and area-array cameras and fiberoptic interfaces that can extend the camera-to-frame-grabber connection from 20 to 500 m. For more descriptive product information, refer to the Web site of the company's exclusive US distributor—Alternative Vision (Los Altos, CA, USA; www.alt-vision.com).
FIBRE CHANNEL PLATFORMS
www.fibrechannel.org
The Fibre Channel Industry Association (FCIA) is an organization of manufacturers, systems integrators, developers, systems vendors, industry professionals, and end users, with more than 190 members worldwide. The FCIA Web site features technology overviews, news, and member information. By selecting the site's Product Search, you can select 300 Fibre Channel products from 80 FCIA member companies.
Other fiberoptics Web sites of interest
www.fiberoptix.com
www.1stvision.com
www.ifs.com
www.inova-semiconductors.com
www.sbs.com
www.systran.com
www.weco.com