New Products for October 2000
Display tackles marine applications
Based on the company's C1200 two-slot panel/rack-mountable PC, flat-screen display operates via a hardened touchscreen that eliminates keyboard and mouse operations ...
Oct 1st, 2000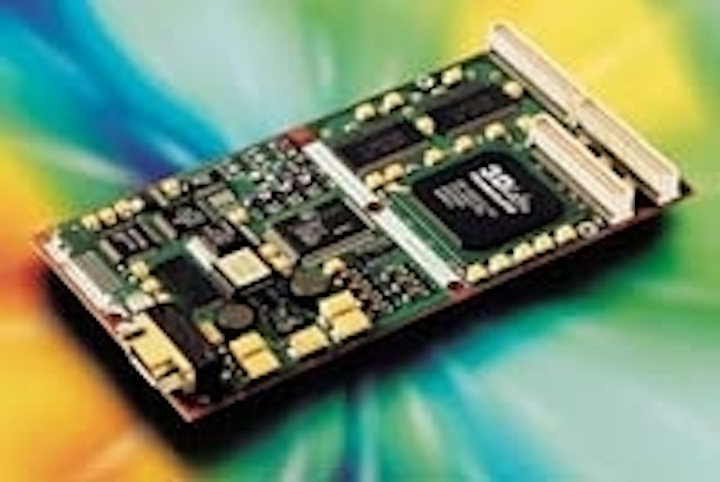 Graphics board digitizes video
The PMC-GA2 functions as both a frame grabber and a graphics card. For integrating video systems and sensors, the board is capable of digitizing both PAL and NTSC video. A video output supports PAL, NTSC, and RS-170 interlaced video formats. Designed for use with the company's PowerPC single-board computers, the board offers a Permedia3 graphics accelerator, capable of generating 2 million textured polygons per second. With X11 and Open GL support, the board can also drive graphics displays to 1600 x 1200 pixels. Radstone Technology, Northants NN12 6JN, England; (01144) 1327 359444.
Display tackles marine applications
Based on the company's C1200 two-slot panel/rack-mountable PC, flat-screen display operates via a hardened touchscreen that eliminates keyboard and mouse operations. Because shipboard-monitor applications require controlled brightness, the display has 100% dimming to eliminate interference with night-sight devices. With a 300-cd/m2 display, the unit can be remotely booted from a LAN and has ESD-protected I/O ports and a watchdog timer. It is sealed to NEMA4/IP65 standards, can be operated between 0°C to 50°C, withstands 30% to 80% humidity, and can tolerate an operating shock of 10 g. Densitron, Santa Fe Springs, CA 90670; (562) 941-5000.
Software features 3-D rendering
LightTools, version 3.0, uses the OpenGL rendering engine to deliver 3-D rendering capability and increase display speed by incorporating graphics adapters that are OpenGL compliant. To improve the software's scattered-light modeling capabilities, LightTools can import bidirectional scatter distribution function data for a surface. These data can be used to model rotationally symmetric scatter or fit to an elliptical Gaussian function for modeling anisotropic scatter. The speed and accuracy of scatter analysis have been enhanced by implementing aim areas and cones. These are user-defined surfaces or volumes over which the program analyses scattered light. This feature increases speed by eliminating the traces of light that do not contribute to final results. Optical Research Associates, Pasadena, CA 91107; (626) 795-9101.
Illuminator uses fiberoptic adapters
Offering 300 to 10,000 hours of high-output illumination, the Molte Luce Model 300 fiberoptic illuminator can be used with standard fiberoptic adapters for microscopy and machine-vision applications. In operation, a slide potentiometer can adjust the lamp intensity from 0% to 100%. Optional iris dimming is available when a constant color temperature is required. Other features include a base-mounting, multiunit stacking capability, on/off switch, and an internal infrared filter. StockerYale, Salem, NH 03079; (603) 893-5604.
Vision software is PC-based
Vision Foundry, Version 2.5, is a PC-based image-processing package designed to automate visual inspection and industrial inspection processes. Using a point-and-click-programming environment, the latest version features seven new image-processing tools, additional frame-grabber support, and new measurement and analysis capabilities. Using a multitiered architecture, the program can be used for rapid program, custom application, and custom tool developments. A picture tool function supports the company's series of frame grabbers, an image-classifier tool allows objects within an image to be classified by their features, and a contour tool allows the sorting of randomly selected parts. A trial version can be obtained directly from the company's Web site. Data Translation, Marlboro, MA 01752; (800) 525-8528.
Cables carry camera signals
The 98802 Interflex series of LVDS cables satisfies Channel Link camera-interface requirements and uses reverse spiral shielding for flexibility. Other features include a propagation delay of 1.52 ns/ft, a 100-Omega balanced impedance, and a balanced attenuation of 8 dB/100 ft. Nortech Systems, Merrifield, MN 56465; (800) 237-9576.
Fiberoptic illuminator operates remotely
Where illumination must be mounted away from the inspection line or inside inspection equipment, the MI-150R fiberoptic illuminator allows intensity operation to be controlled over a 7- to 12-ft cable. Featuring a carrying handle and a side-door for quick lamp changes, the illuminator delivers a color temperature of 3250 K with an output of 350,000 fc. Available for either 115- or 230-Vac operation at 50 to 60 Hz, the MI-150R provides a solid-state 0% to 100% intensity control and comes with UL and CE approval. Dolan-Jenner Industries, Lawrence, MA 01843; (800) 833-4237.