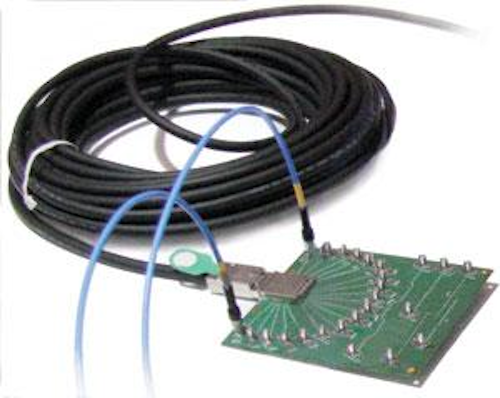 At VISION 2007 (Stuttgart, Germany), Point Grey Research (Vancouver, BC, Canada; www.ptgrey.com) demonstrated a camera that used the PCI Express 1.1 (PCIe) interface to transfer image data directly to a host PC without requiring a traditional frame grabber. Instead, the prototype camera, which has still to see production volumes, used an EEX1 PCIe host adapter card from Magma (San Diego, CA, USA; www.magma.com) to transfer 1920 × 1080-pixel 24-bit RGB images at 22 frames/s across a 3-m PCI Express-approved cable from Molex (Lisle, IL, USA; www.molex.com) to the host PC, for a total data rate of 136 Mbytes/s (see Vision Systems Design, January 2008, p. 47).
Building upon this development, Components Express (CEI; Woodridge, IL, USA; www.componentsexpress.com) chose The Vision Show (Boston, MA, USA) in June 2008 to demonstrate a high-bandwidth cable that extends the length of the high-speed machine-vision interconnects from 6 m to more than 18 m at speeds up to 5 Gbits/s/channel.
"Our customers have asked us to build cables that are longer, faster, and cheaper, so we must adopt technologies such as pre-emphasis and equalization to do this," says Ray Berst, president of CEI. The problem in extending the length of a high-bandwidth cable over distances greater than 6 m is one of signal degradation." As cable lengths become longer and data rates increase, the signal can become so corrupted with noise that all data are lost.
To overcome this, CEI's prototype smart cable solution uses a QLx4600 lane extender from Quellan (Santa Clara, CA, USA; www.quellan.com) to compensate for the data loss and noise associated with transmitting image data at this speed over copper cables (see figure). This allowed CEI to demonstrate a prototype cable interface using a x 4–5-Gbit/s serial data signal over cable lengths as long as 18 m.
"The high-speed serial interface used in this prototype machine-vision interconnect," explains Gourgen Oganessyan, strategic marketing manager at Quellan, "uses four bidirectional channels, each running data at 5 Gbits/s, thus achieving total throughput of 20 Gbits/s. At such high speeds, signal-integrity impairments caused by long copper cables become critical. These impairments, which include attenuation and noise, make it impossible to transmit data over passive cables longer than several meters. Using Quellan's QLx4600 lane extender compensates for attenuation and manages noise, thus recovering pristine signal quality at the output of an 18-m copper cable
To demonstrate the performance of the high-speed cable, CEI displayed an eye diagram of the received signal on a 12.5-Gbit/s BERTScope from SyntheSys Research (Menlo, CA, USA; www.bertscope.com). "Using an eye diagram can reveal much about system performance," says Matt Remmes, sales engineer at SyntheSys Research. "For example, if signals are poorly synchronized with the system clock, too noisy, or distorted, the eye patter will close while an "open" eye pattern corresponds to minimal signal distortion." To show the effects of this distortion, Remmes demonstrated the effect of 5-Gbit/s data transmission across the 18-m cable with and without using the Quellan programmable quad equalizer
Without any analog-signal compensation the eye diagram is closed, indicating the presence of a distorted noisy image. Alternatively, when the Quellan equalizer was used in the design, the eye diagram was open, showing that the signal had been properly recovered. While CEI has yet no plans as yet to commercialize this technology, the technology demonstration remained impressive.