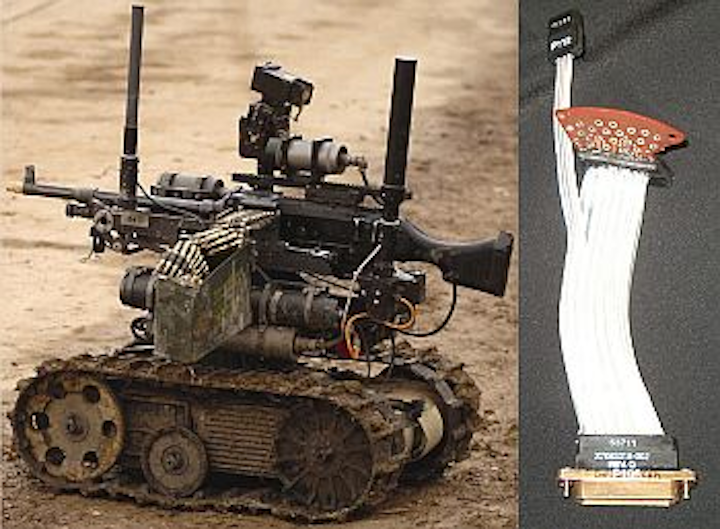 Flexible and durable flat silicone cables are designed for use on unmanned ground-based military robotic vehicles that require absolute reliability in mission-critical and extreme environment conditions. Flat silicone cables save space and reduce weight, offer greater current carrying capacity, and reduce skewing effects. The cables can withstand temperatures from -65°C to +260°C. Each cable incorporates elements such as power conductors, shielded single conductors, signal pairs, video and coax conductors, and the patented StripMount fastening strip. Clamping systems are not required because conductors cannot escape the silicone casing.
Cicoil
Valencia, CA, USA

-- Posted by Vision Systems Design

---
NEW PRODUCT PRESS RELEASE
Silicone Encased Cables Provide Absolute Reliability in Military Robotic Applications
Valencia, CA: Cicoil's highly flexible and durable flat silicone cables are designed for use on Unmanned Ground Based Military Robotic Vehicles that require absolute reliability in Mission Critical and Extreme Environment Conditions. Unlike bulky and stiffer round cables, Cicoil's flat silicone cables provide space and weight savings, enhanced flexibility, greater current carrying capacity, reduced skewing effects and better electrical characteristics.
Cicoil utilizes a process of encapsulating conductors in silicone that renders them unaffected by exposure to severe vibration, G-forces, shaking motion, abrasion, water, coarse sand, extreme temperatures (-65°C to +260°C), flames and harsh weather conditions. Cicoil's specialized silicone jacket functions as a shock absorbing material, completely surrounding and supporting each individual component. Unlike PVC, Polyurethane or Teflon jacketed cables, Cicoil cable does not require a clamping system because the conductors can not creep out of the silicone encasing them.
Each Cicoil cable can incorporate a variety of elements including power conductors, shielded single conductors & signal pairs for superior EMI/RFI suppression, video and coax conductors, and other design elements like Cicoil's patented StripMount fastening strip, all in a single compact cable design. Cables are available in continuous lengths, cut to order, or as assemblies, complete with connectors of your choice, 100% tested and inspected.
Cicoil now has thousands of cable assemblies operating in the most demanding military/aerospace applications, such as missile gimbal & guidance systems, commercial aviation fuel control systems, fighter aircraft precision navigation & targeting systems, ground vehicle mounted combat systems and space vehicle flight control & communication systems. All these applications are mission-critical, requiring Cicoil cable assemblies to perform flawlessly during exposure to harsh operating conditions.
Cicoil's UL Recognized, RoHS Compliant & CE Conforming cables are manufactured in an automated, climate controlled environment. In addition, Cicoil offers anti-friction coating options and custom shaped cable designs by request.
Cicoil has been a leader in designing and manufacturing high performance cable assemblies for over fifty years. The company's unique silicon coated flat cables provide high flexibility, extremely long life, and they can withstand temperature extremes from -65 degrees to +260 degrees Celsius. Cicoil's cables are used in thousands of demanding applications; including aircraft fuel control cells, semiconductor automation, and the Space Shuttle. Cicoil designs and manufactures its cable and cable assemblies in an automated facility in Valencia, California. Cicoil's quality assurance system is certified to the ISO 9001 (AS9100) standard.

SOURCE: Cicoil