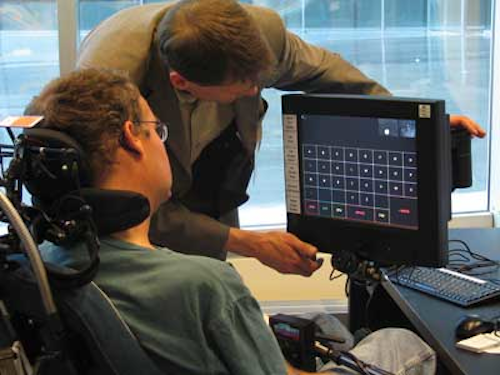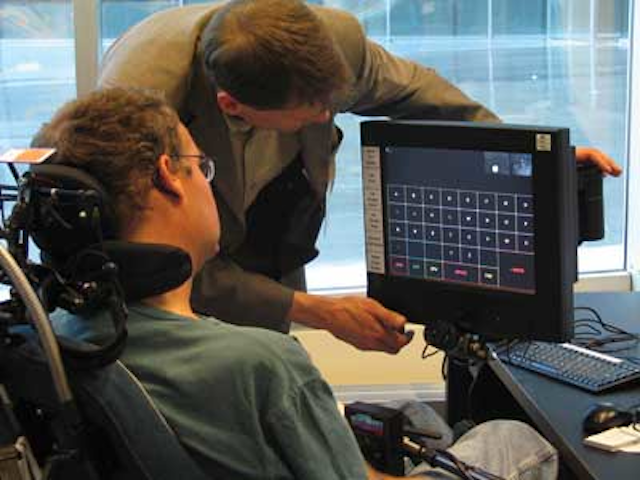 Engineers at LC Technologies (www.eyegaze.com) have developed an eye-tracking system that enables people with disabilities such as multiple sclerosis and traumatic brain injury to stay connected with the world. The Eyegaze Edge system is based on a machine-vision camera used to track one eye of the user to determine the gaze point. It combines a 13.3-in. tablet PC with a Guppy F-038 near-infrared (NIR) camera from Allied Vision Technologies (AVT; www.alliedvisiontec.com) that is mounted just below the screen.
The Guppy camera features an interlaced CCD sensor with enhanced NIR sensitivity that makes it suitable for imaging in low-light conditions. An aperture technology from LC Technologies that incorporates an IR LED light at the center of the camera lens is used to illuminate the eye and generate a corneal reflection that causes a "bright pupil effect." The camera frames the user's pupil and images at 60 frames/sec to capture the user's eye movements.
Image-processing software analyzes the video image of the eye and determines where the user is looking on the screen by making trigonometric calculations based on the position of the user's pupil center and corneal reflection within the image. Gaze point measurements are made with 0.25-in. accuracy.
Users operate the Eyegaze Edge by looking at rectangular keys that are displayed on the control screen and are able to "press" a key by looking at it for a specified period of time. The system features an array of menus and options that allow users to navigate the system and perform a multitude of tasks including synthesizing speech, controlling items such as lights and bells, and typing and accessing e-mail.
More Vision Systems Issue Articles
Vision Systems Articles Archives