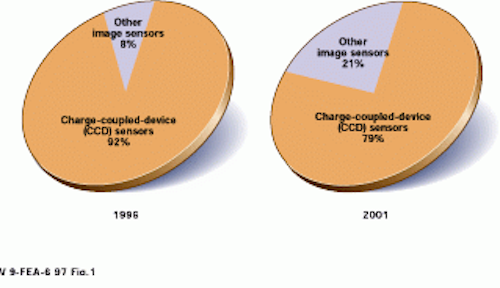 Market for image sensors to double by 2001
By Brian O`Rourke
The worldwide market for image sensors is expected to exceed $1.565 billion by 2001, a growth rate of 18.2% per year from the 1996 total of $678.4 million. This rapid growth is projected to be driven by fast-emerging applications such as digital still photography, videoconferencing cameras, and digital radiography.
This market growth is not being led by the venerable charge-coupled-device (CCD) sensor, which has been the dominant image-sensor technology for both user
and scientific applications. Emerging image-sensor technologies, including CMOS sensors and amorphous-silicon sensors, should proliferate over the next five years. In fact, major worldwide CCD producers, as well as other semiconductor manufacturers, are either developing or actively marketing these emerging imaging technologies.
Still stays strong
Digital still cameras are one of the fastest-growing markets for image sensors, employing primarily CCDs, but also some CMOS sensors. The proportion of CMOS image sensors in this digital application is expected to grow markedly before the end of the decade.
Using a sensor and memory chip to capture and store images instead of film, digital still cameras have experienced rapid growth in business applications over the past two to three years. Market leaders such as Kodak, Casio, Epson, and Olympus have successfully marketed digital still cameras to businesses that need to process images quickly, including realtors, insurance adjusters, and lawyers. Another important application is graphic arts, especially among desktop publishers, advertising agencies, and professional photographers.
Though not yet a popular consumer item, a digital camera offers several advantages over a film camera, including elimination of film processing, ability to instantly see snapshots, and ability to manipulate and send e-mail images via a personal computer. In support of digital still photography, Hewlett-Packard (Palo Alto, CA) has recently entered the market with its PhotoSmart system. On the debit side, though, the quality of images provided by today`s digital still cameras does not approach the quality available in typical 35-mm point-and-click cameras.
For digital still cameras to take off in the user market, inexpensive higher-resolution sensors must be developed. Most image sensors in current digital still cameras contain 250,000 to 400,000 pixels; these densities do not produce images comparable to those from 35-mm film. An image sensor that implements 750,000 to 1 million pixels at a reasonable price is needed.
Currently, most digital still cameras with megapixel CCDs cost thousands of dollars. One lower-price solution may be the use of an alternative imaging technology. For instance, CMOS image sensors are silicon-based semiconductor devices that use the same manufacturing technologies as do microprocessors and memory chips. As a result, they could consume up to 100 times less power than CCDs, which would enhance the digital still camera`s portability. However, CMOS sensors also create noise, which lowers their sensitivity compared to a similar-resolution CCD.
Several vendors are developing CMOS image sensors, such as Matsushita, Texas Instruments, and NEC. Toshiba is offering a 330,000-pixel, 1/4-in. CMOS sensor for use in digital cameras. Moreover, Kodak and Motorola have joined forces to produce CMOS image sensors. Photobit (La Crescenta, CA), a startup CMOS-sensor manufacturer that has its roots in the NASA Jet Propulsion Laboratory (Pasadena, CA), is expected to release its first product this fall. The large market size and the increasing number of involved manufacturers indicate that CMOS technology has immense potential. Therefore, CMOS image sensors are figured to impact the digital still-camera market sometime next year.
Video communications
Although the videophone has been under development for several years, attempts to produce a marketable one have failed because of the price/performance barrier. This barrier may finally be breached by the videoconferencing camera.
Two-way visual communications for both users and system integrators will most likely focus on the desktop computer in the future. The PC market represents the base for a potentially huge videoconferencing market. All computers sold by the end of the decade are expected to have the graphics and software capabilities that will easily handle two-way video communications.
Due to its vast potential, the videoconferencing market should spur the sales of video cameras during the next few years. For example, videophones may be accessible on the Internet or over regular phone lines. Recently, the International Telecommunications Union recognized two transmission protocols for visual communications: one over the Internet (H.323) and one over standard telephone lines (H.324). These protocols are structured to allow video cameras from different manufacturers to communicate interoperatively. The combination of these communication standards and a burgeoning base of conferencing-ready personal computers is projected to create a large videoconferencing market.
Currently, four companies lead the videoconferencing-camera market: Connectix, Sony, Philips, and Sharp. These companies all use CCD image sensors exclusively. However, CMOS sensors have some advantages that will soon make them a force in this market. Because CMOS technology can integrate several camera functions on one chip, it could be a primary factor in decreasing the size of cameras. Currently, VLSI Vision Ltd. (Edinburgh, Scotland) and Omnivision (San Jose, CA) manufacture CMOS sensors for use in videoconferencing cameras.
Medical sensors
Image sensors are also gaining a foothold in medical radiography as replacements for x-ray film. They have three main advantages over x-ray film: the image can be seen immediately without film processing, the resolution is superior to film, and the image can be stored digitally. For example, in medical radiography, image sensors are being used in large-scale full-field x-ray systems, such as those used to visualize bone structure.
In addition, image sensors are being used in small-scale applications such as digital spot mammography, a procedure that involves a localized search of breast tissue. Two types of image sensors are used in radiographic applications: CCDs and amorphous silicon sensors.
CCDs for x-rays are attached to a scintillator, which converts the x-rays into visible light for reading by the CCD. Sometimes the CCD and scintillator are attached to a fiberoptic taper package, which directs the light more precisely to the CCD. The image is then communicated to a terminal or video printer for display and evaluation.
Amorphous silicon sensors are manufactured by laying a layer of silicon over a glass substrate. Circuits are then etched into the device similar to the process for CCDs. Amorphous-silicon sensors are as much as ten times larger than CCDs of comparable resolution. The silicon overcomes the size restrictions imposed on both the CCD and CMOS image sensors, which are limited to the size of the silicon crystal wafer. It proves advantageous because CCDs tend to be small, and the x-ray image must often be reduced to fit its small size. However, these properties could result in signal distortion or loss. Amorphous-silicon sensors are produced by companies such as dpiX (Palo Alto, CA) and the EG&G Amorphous Silicon Division (Santa Clara, CA).
The CCD should continue as the standard image sensor into the next century (see figure). However, its rate of growth is foreseen as not matching that of other image-sensor technologies, such as CMOS and amorphous-silicon sensors. Since the early 1980s, the CCD has essentially been the only choice for the vast majority of solid-state imaging applications. This is no longer the case, and the competition provided by the new sensor technologies should drive prices down among all types of image sensors. Consequently, the markets for sensors and imaging applications are poised for rapid expansion.
Brian O`Rourke is research analyst, Strategies Unlimited, Mountain View, CA 94040; e-mail: info@strategies-u.com.
As the established standard image-sensor technology for several years, charge-coupled devices (CCDs) captured 92% market share of the worldwide image-sensor market in 1996. However, emerging technologies such as CMOS and contact image sensors are expected to gain acceptance and improve their market share to 21% by 2001.